INS 11th World Congress in Berlin

---
Breaking News
Survey: Falls More Likely in Parkinson's Disease Patients Who Use Deep Brain Stimulation
Dec. 12, 2013 - In a survey by the Parkinson Alliance of 334 people with Parkinson's disease who underwent deep brain stimulation (DBS) therapy and 819 individuals who did not, there was 2.52 more risk of falls in the respondents who had DBS, according to the results. The organization recommends discussing fall prevention at each visit for patients who have DBS. (PR Newswire)

Interactive Remote Training Offered to Toddlers Learning Language after Cochlear Implantation
Dec. 9, 2013 - A joint teletherapy program offers language training conducted remotely for children under the age of 3 who have received cochlear implants. Toddlers from Salinas, CA to the Oregon border participate in the program, Baby Talk, regardless of ability to pay. A 1-year-old girl who is among the 17 youngsters enrolled is featured in a news column describing her home-therapy sessions. (Stanford University)

Visual Prosthetic Innovator Looks Back and Ahead Regarding Device Development
Dec. 11, 2013 - In remarks at an event, the founder and CEO of visual prosthetics inventor Second Sight Medical, whose Argus II retinal implant was approved by the FDA earlier this year, discusses the 22-year, $200 million development of the "bionic eye" for improving visual perception in patients with retinitis pigmentosa. He said the next challenge would be to bypass the optic nerve and stimulate the visual cortex, a goal that may lead to a device to test in the next two years. (Mass Device)

Michigan Health System Will Offer Responsive Neurostimulation for Epilepsy
Dec. 11, 2013 - Michigan-based Spectrum Health, whose medical group chief of neurology is the immediate past chair of the National Epilepsy Foundation, will be among the first health systems in the U.S. to offer the NeuroPace® Responsive Neurostimulation (RNS®) System for patients with medically refractory epilepsy that has no more than two origin points. NeuroPace, Inc. estimates that approximately 400,000 people in the U.S. meet criteria for the device and may benefit from treatment. (Phys.org)

Columnist Raises Awareness About Deep Brain Stimulation for Parkinson's Disease
Dec. 11, 2013 - A newspaper columnist writes about two friends who will undergo deep brain stimulation surgery similar to the operation he had nearly three years ago to manage symptoms of his Parkinson's disease. (Fountain Hills Times)

Florida Hospital Will be a Site for Study of Dorsal Root Ganglion Stimulation in Chronic Lower Limb Pain
December 2013 - One of 25 expected locations for the U.S. ACCURATE pivotal clinical study http://www.accuratestudy.com/ of Spinal Modulation, Inc.'s Axium™ Neurostimulator System for patients with chronic lower limb pain is Holy Cross Hospital in Fort Lauderdale, FL. The neurostimulator targets the dorsal root ganglion to interrupt pain signals traveling to the brain. (Holy Cross Hospital)

Vagus Nerve Stimulation System Results Presented
Dec. 10, 2013 - At the American Epilepsy Society annual meeting, Cyberonics, Inc. presented results from 14 European centers in which 31 patients received the company's investigational AspireSR generator, which provides normal-mode vagus nerve stimulation augmented by seizure response stimulation. The performance and safety study met its endpoint; the IntelliSense cardiac-based seizure detection system detected more than 80% of seizures accompanied by a heart-rate increase that often occurs near or before the seizure onset. (Pharmabiz.com)

Authors Report Deep Brain Stimulation Effects in Chronic Neuropathic Pain Patients
Dec. 9, 2013 - International Neuromodulation Society member Alexander Green, MD, and colleagues report that deep brain stimulation for chronic neuropathic pain significantly improved mood, anxiety, and aspects of quality of life in a six-month follow-up compared to baseline. However, improvements in pain severity from stimulation of the periventricular/periaqueductal grey area and sensory thalamus were associated with less improvement, and even deterioration, on measures of executive cognitive functioning. (The Journal of Pain)

Early Results Presented Regarding Noninvasive Brain Stimulation for Chronic Knee Pain
Dec. 9, 2013 - Highland Instruments, Inc. announced its ESStim™ technology, noninvasive brain stimulation that combines independently controlled electromagnetic and ultrasonic fields, was presented during the 5th International Symposium on Neuromodulation in September in Brazil. A preliminary analysis of 18 patients with osteoarthritis of the knee showed significant pain reduction lasting up to four weeks post-stimulation. (PR Newswire)

Report Traces Activities in Epileptic Seizure Evaluation and Advances in Neuroscience
Dec. 9, 2013 - A reporter for National Public Radio's Morning Edition profiles the experiences of a man being evaluated for epilepsy in the hospital, centering on how selective brain stimulation during these procedures can reveal more about the roles of different brain regions, such as the recently reported association between a particular brain center and perseverance. (WBUR)

Responsive Neurostimulation Pivotal Clinical Trial Results Presented
Dec. 8, 2013 - Results of the 250-patient pivotal clinical trial for the NeuroPace responsive neurostimulation device approved by the FDA last month were presented at the American Epilepsy Society's annual meeting. Responder rates increased steadily over the first two to three years after implant, with seizure frequency dropping about 55%, a level that was sustained for up to 80 months. (MedPage Today)

Members Author Study on High-Frequency Spinal Cord Stimulation in Chronic Pain
Dec. 5, 2013 - International Neuromodulation Society members Adnan Al-Kaisy, MD; J.P. Van Buyten, MD; Iris Smet, MD; Stefano Palmisani, MD; and Thomas Smith, MD were among authors reporting two-year follow-up results in a prospective, multi-center study of high-frequency spinal cord stimulation in patients with chronic pain of the low back and legs. Of the 64 patients assessed after 24 months, clinically significant improvements in pain reduction, reduced opioid use, function, and satisfaction were observed. (Pain Medicine)

Research Links Brain Circuit to Perseverance
Dec. 5, 2013 - A study in Neuron http://www.cell.com/neuron/retrieve/pii/S0896627313010301 indicates the importance of the anterior cingulate cortex in perseverance to overcome challenges. The study involved two epileptics who had electrodes implanted in their anterior midcingulate cortex to learn about their seizures. Stimulation of this region, the authors report, "elicits autonomic changes and the expectation of an imminent challenge coupled with a determined attitude to overcome it." (Medical Daily)

First U.S. Implant of Next-Generation Deep Brain Stimulation System
Dec. 5, 2013 - International Neuromodulation Society member Jaimie Henderson, MD, implanted the first deep brain stimulation device in the U.S. that is capable of sensing and storing electrical activity in the brain. Stanford University, where he is a professor of neurosurgery at the medical school, will receive 10 of these next-generation symptoms as part of a clinical study, according to the Stanford Center for Clinical and Translational Research and Education. Henderson said the device provides "a unique window on brain function and dysfunction in Parkinson's disease." (Stanford School of Medicine)

Three-Month Follow-Up Results Reported in Spinal Cord Stimulation Patients Using 32-Contact Leads
Dec. 6, 2013 - At the 17th annual meeting of the North American chapter of the International Neuromodulation Society (INS), Boston Scientific Corporation presented a retrospective study of up to three months follow-up with its Precision Spectra™ spinal cord stimulation system (SCS). INS member Salim Hayek, MD, PhD, chief, Division of Pain Medicine at University Hospitals of Cleveland commented on the effectiveness of pain-reduction shown in up to 213 consecutive patients at 13 centers with the SCS system. It uses 32 contacts and an anatomy-driven computer model for programming stimulation. Among initial results were a 94% trial success rate; pain reduction from 7.8 out of 10 to 3.2 in the 113 patients who were three months post-implant; and a lower-back-pain reduction from an initial 7.0 to 2.9 out of 10 in 32 lower-back-pain patients who reached a three-month follow-up. Early results indicated improved function, and reduced opioid use and disability. (Yahoo! Finance)

First U.S. Patients Receive Deep Brain Stimulation Systems That Are Capable of Sensing and Recording
Dec. 5, 2013 - Medtronic, Inc. announced that the first U.S. patients have received implants of the company's Activa PC+S deep brain stimulation system (DBS) that senses and records brain activity. The system could be subject to research at up to 20 centers, and the brain-mapping data will be made available to physicians worldwide for clinical studies. The system is investigational in the U.S., and received CE Mark in January in the European Union. The first U.S. patients were treated at Stanford Movement Disorders Center and the University of California San Francisco's Bachmann-Strauss Dystonia and Parkinson Foundation Center of Excellence. (Star Tribune)

Electroceutical Startup Chooses Developer for Programmable Interface
Dec. 5, 2013 - Product developer Sangentia announced it will work on a programming interface with SetPoint Medical to develop an iPad App and advise on radio frequency and Bluetooth Low Energy interfaces for SetPoint's bioelectronics platform. The platform is being developed to treat inflammation-mediated autoimmune diseases as a lower-risk, lower-cost alternative to immunosuppressive drugs for chronic inflammatory diseases. (Business Wire)

Entrepreneur Announces a New Focus on Neurostimulation for Brain Damage
Dec. 5, 2013 - Amol Sarva, PhD, writes in Wired Magazine he is building a team to target using neurostimulation to treat brain damage, with a 12-person controlled trial complete and a 100-person trial anticipated. The co-founder of Virgin Mobile USA, he calls neurostimulation a mind-expanding idea that might be commercialized to improve cognitive function. Sarva pursued a doctorate in cognitive science at Stanford University and previously created two communications startup companies. (Wired)

Enrollment Starts in Clinical Trial of Peripheral Nerve Field Stimulation and Spinal Cord Stimulation in Chronic Low Back and Leg Pain
Dec. 4, 2013 - St. Jude Medical, Inc. announced the first patient has been enrolled in a randomized controlled clinical study that compares spinal cord stimulation (SCS) alone against SCS with peripheral nerve field stimulation (PfNS) for managing chronic low back and leg pain. The patient was enrolled by International Neuromodulation Society (INS) member Thomas Yearwood, MD, PhD. A maximum of 450 patients who have failed back surgery syndrome will be enrolled at up to 35 sites in the U.S. in the trial, led by principal investigator and INS member Porter McRoberts, MD. The SENSE™ Subcutaneous and Epidural Neuromodulation System Evaluation study will examine safety and efficacy of combined SCS and PfNS, as well as pain reduction, quality of life, changes in disability measures, and cost-effectiveness data to support reimbursement coverage. (Business Wire)

Company Expects a Growing Number of Patients to be Covered for Percutaneous Tibial Nerve Stimulation Treatment
Dec. 4, 2013 - Minnesota-based Uroplasty, Inc. expects to end calendar year 2013 with an increasing number of patients receiving insurance reimbursement for its percutaneous tibial nerve stimulation system, Urgent® PC, for overactive bladder and relate symptoms. This includes approximately 40 million Medicare recipients, an increase from 37 million a year ago, and approximately 106 million patients with private insurance, up from 87 million a year ago. The Health Care Service Corporation (HCSC), the largest customer-owned health insurance company in the United States, recently announced that in Illinois, Montana, New Mexico, Oklahoma and Texas, as of Dec. 15, 2013, coverage will be extended for up to three years for patients showing continued improvement after the first year of treatment.
(Benzinga)

Two-Day Brain Forum Held in Saudi Arabia
Dec. 4, 2013 - Deep brain stimulation pioneer Alim Benabid, MD, PhD, was among speakers at a two-day Brain Forum in Jeddah designed to place Saudi Arabia on the "roadmap of the human brain frontier," according to the organizer of this first-ever event. (Saudi Gazette)

Company Releases Interim Results of Weight-Loss Study; Shares Rise
Dec. 3, 2013 - EnteroMedics said its vagus nerve stimulation implant, the Maestro Rechargeable system, showed in the first 18 months of a pivotal five-year study that 117 patients in the active treatment group achieved 25% loss of excess weight compared to 12% weight loss in the 42 patients in the sham treatment group. With the news, shares rose 81 cents Tuesday to $2.24. (TwinCities.com)

Pediatric Dystonia Patients Receive Deep Brain Stimulation Surgery While Asleep
Dec. 3, 2013 - International Neuromodulation Society member John Honeycutt, MD, led the first two surgeries in which children with dystonia received deep brain stimulation implants while "asleep" through the use of real time image guidance and visualization. The surgeries using MRI Interventions' ClearPoint® Neuro Intervention System and an IMRIS VISIUS® Surgical Theatre took place at the Cook Children's Medical Center Department of Neurosurgery in Fort Worth, Texas in November. (MarketWatch)

Burst Stimulation Spinal Cord Stimulation Clinical Trial Announced
Dec. 3, 2013 - St. Jude Medical, Inc. has initiated a U.S. clinical trial of spinal cord stimulation with its Prodigy™ neurostimulator that uses a proprietary burst mode of stimulation. Up to 442 chronic pain patients will be enrolled at up to 50 sites in the safety and efficacy trial, SUNBURST™ (Success Using Neuromodulation with BURST). The new investigational device has an expected 10-year battery life and requires recharging approximately once a week. It is designed to deliver both tonic and burst stimulation. International Neuromodulation Society President Elect Tim Deer, MD commented that the comprehensive approach may help manage pain in patients whose pain is not adequately managed by tonic spinal cord stimulation alone, or who lose therapeutic benefit over time. Also, the prospect of burst stimulation providing paresthesia-free pain relief means it could suit patients who cannot tolerate traditional stimulation. (Mass Device)

Mobile Platform for Transcranial Direct Current Stimulation Announced
Dec. 2, 2013 - Soterix Medical Inc. of New York, N.Y., Rogue Resolutions Ltd of Cardiff, UK, and neuroConn GmbH of Ilmenau, Germany announced a transcranial direct current stimulation (tDCS) platform with a headgear designed for clinical trial or home use. The MOBILE neuromodulation device kits are designed to deliver Limited Total Energy (LTE) tDCS, using a proprietary technology developed at The City College of New York. The kits include cloud-based compliance monitoring and are explicated to enter clinical trials in 2014. (PR Newswire)

Letter to Editor: Back Pain Patients Encouraged to Learn About Spinal Cord Stimulation
Dec. 2, 2013 - A woman who had chronic pain more than 20 years after two back surgeries and finally regained more daily functioning after receiving a spinal cord stimulator (SCS) implant says she hopes others with such a condition will seek help and get relief after reading about a woman with degenerative disc pain who was able to run a half-marathon after using SCS. (Monterey County Herald)

Epileptic Since Infancy, 4-Year-Old Boy Benefits from Vagus Nerve Stimulation
Dec. 1, 2013 - A 4-year-old boy who has had epileptic seizures since infancy received a vagus nerve stimulation system, benefitting from that stimulation since treatment began one month ago. (Las Cruces Sun)

Prospective Study Documents Value of Deep Brain Stimulation in Critical Care Conditions
Nov. 30, 2013 - When involuntary movements are continuous, life-threatening and refractory to intensive care procedures, a prospective study of seven critical care patients indicates that neurostimulation could represent a valuable choice. In the study by International Neuromodulation Society member Angelo Franzini, MD, and co-authors, five patients with status dystonicus received bilateral deep brain stimulation (DBS) to the globus pallidus internus, resolving those symptoms from between 1 week to 3 months. A patient with post-stroke severe hemiballismus received unilateral DBS to the unilateral ventralis oralis anterior and posterior nucleus of the thalamus. That patient's symptoms were controlled in 10 hours and the patient was discharged in two days. Another patient with hemiballismus who was also treated with unilateral DBS was transferred to the neurosurgery ward after 13 days. (Journal of Neural Transmission)

Support Group Formed by Parkinson's Patient Who Began Deep Brain Stimulation Early
Nov. 30, 2013 - A news feature explores the experiences of a Parkinson's disease patient who chose to have deep brain stimulation surgery (DBS) early in his disease at the recommendation of his neurologist, and has begun a support group for people who have had, or are considering, DBS. (Las Vegas Review-Journal)

Paper Reviews the Prospect of Sphenopalatine Ganglion Stimulation in Migraine Treatment
Nov. 29, 2013 - Two possible mechanisms of action are proposed for the therapeutic effect of sphenopalatine ganglion (SPG) stimulation in migraine. Parasympathetic activity of the SPG may contribute to the pain of migraine as well as tearing, nasal stuffiness, and other symptoms of the autonomic nervous system. Possible mechanisms of SPG stimulation are either interrupting parasympathetic outflow that triggers those symptoms, or modulating sensory processing in the trigeminal nucleus caudalis. (Cephalalgia)

Potential of Deep Brain Stimulation in Eating Disorder is Described
Nov. 29, 2013 - An article describes how early studies indicate that deep brain stimulation may be promising in treating such eating disorders as obesity or anorexia. (dailyrx.com)

Mapping Neural Correlates of Disease is Among Program's Aims
Nov. 27, 2013 - A U.S. military publication explains how the Defense Advanced Research Projects Agency's Systems-Based Neurotechnology for Emerging Therapies (SUBNETS) program is aimed at evaluating how the central nervous system represents traumatic brain injury, addiction, and fibromyalgia/chronic pain. If successful, the program manager said, the research would "advance neuropsychiatry beyond the realm of dialogue-driven observations and resultant trial and error . . . to produce major improvements in quality of life for service members and veterans who have very few options with existing therapies. These are patients for whom current medical understanding of diseases like chronic pain or fatigue, unmanageable depression or severe post-traumatic stress disorder can't provide meaningful relief." (Armed With Science)

Fusing Computational Methods and Emerging Neuromodulation Therapies Could Fuel the Field of Translational Computational Neuroscience
Nov. 26, 2013 - In a paper describing possible therapeutic mechanisms of neuromodulation in migraine using such interventions as sphenopalatine ganglion stimulation or transcranial magnetic and electrical stimulation, computational scientists describe how conceivably a dynamical network biomarker might provide an early-warning system for episodic bouts of chronic conditions. They say that quantitative modeling at cellular and tissue scales might have predictive properties and help to optimize treatment protocols as well as develop a unified theory of control. Experimental data, such as imaging of neural connectivity, would aid this endeavor. (Translational Neuroscience)

Epilepsy Treatment Device Likened to a Window into the Brain
Nov. 25, 2013 - International Neuromodulation Society member Ryder Gwinn, MD, explains how the new NeuroPace responsive neurostimulation system for epilepsy provides a window into brain activity, building therapy around a patient's seizure fingerprint and permitting programming of stimulation to be refined through closed-loop feedback. (KOMO News)

Research Suggests Role of Brain Region in Decision-Making
Nov. 24, 2013 - A team at the University of British Columbia performed studies on rats that showed inactivating the lateral habenula, as may occur in deep brain stimulation, led to the research subjects displaying indifference about choosing between rewards with different subjective costs and benefits. The work suggests that rather than serve as an aversion center, conveying an anti-reward signal as previously thought, the region may act as a preference center for expressing subjective decision biases. (University of British Columbia)

Spinal Cord Stimulation Shows Promise in Pudendal Neuralgia
Nov. 19, 2013 - In what is called the first prospective study of its kind, 27 patients received spinal cord stimulation of the conus medullaris for refractory pudendal neuralgia; 20 patients were considered responders after a trial phase and went on to permanent implantation. All the implanted responders continued to benefit at a mean follow-up of 15 months. The authors conclude that routine use of this technique should be validated in a larger study in this type of patient. (Neurology and Urodynamics)

Long-term Followup Shows Sacral Neuromodulation Benefits Continue in Bladder Dysfunction
Nov. 25, 2013 - A retrospective analysis of 217 patients with lower urinary tract dysfunction showed that in a median follow-up of almost four years, the benefits of sacral neuromodulation persisted with less need for repositioning in patients treated by more recent percutaneous self-anchoring leads. (medwireNews)

External Stimulation System for Shoulder Pain Approved in Australia
Nov. 22, 2013 - The Australian Therapeutic Goods Administration has approved use of SPR Therapeutics' Smartpatch percutaneous peripheral nerve stimulation system for shoulder pain. The device is manufactured by NDI Medical of Cleveland, Ohio. International Neuromodulation Society Secretary Marc Russo, MBBS, commented that the minimally invasive system fills a gap in the pain treatment continuum, between narcotics or more invasive surgery. (Digital Journal)

Call for Proposals Regarding Brain Stimulation in Combat Recovery
Nov. 22, 2013 - The Defense Projects Research Agency has issued a request for proposals about using brain stimulation to help treat post-traumatic stress disorder, traumatic brain injury, and other brain maladies through closed-loop neural recording and stimulation. (FEDweek)

Gastroesophageal Reflux Disease Treatment System Approved in Argentina
Oct. 30, 2013 - St. Louis-based EndoStim announced it has received approval in Argentina for sale of its neurostimulation system to treat gastroesophageal reflux disease, GERD. The Lower Esophageal Sphincter Stimulation System strengthens the muscle that prevents stomach acid from rising into the esophagus, which lacks a protective lining to protect against tissue damage. The system uses bipolar leads that are implanted laparoscopically and powered by an impulse pulse generator. (PR Newswire via EndoStim)

Vagus Nerve Stimulator Manufacturer Posts Gains in Second Quarter
Nov. 22, 2013 - Cyberonics Inc. of Houston, TX announced second-quarter 2013 gains with net income up to $13.8 million from $13.5 million during the same quarter one year ago. Sales of its vagus nerve stimulation system grew internationally by almost 10% and overall sales were at a record high. Product development includes submission of the vagus nerve stimulation generator AspireSR for approval in Europe for use in epileptics in whom the device could automatically deliver stimulation in response to a change in heart rhythm. (Fierce Medical Devices)

Feasibility Study Targets Neural Plasticity As a Remedy for Tinnitus
Nov. 21, 2013 - International Neuromodulation Society member Dirk De Ridder, MD, PhD, and colleagues published an early view case series in Neuromodulation: Technology at the Neural Interface describing how medication-free patients with chronic tinnitus who received 20 daily sessions pairing a brief electrical stimulation of the vagus nerve and tones other than the tinnitus-matched frequency experienced improvement in symptoms that was stable for two months after therapy. This case series was an attempt to translate into humans findings from animal research indicating it may be possible to drive neural plasticity in a controlled way to limit symptoms of the disorder. (University of Texas at Dallas)

Visual Prosthetic Company Founder Looks Back and Ahead at Technology Development
Nov. 21, 2013 - The founder of Second Sight Medical, creator of the Argus II visual prosthetic that is due to be marketed in the U.S. in 2014, described its development as a means to bypass a gap in the sensory nervous system pathway, and what future treatments may be in store. (Mass Device)

Canada Approves Electrical Stimulation System to Assist Breathing
Nov. 21, 2013 - Oberlin, Ohio-based Synpase Biomedical received Health Canada approval for its diaphragm pacing system, NeuRx. The system electrically stimulates the muscles to allow spinal cord injury patients to breathe longer without the need of a mechanical ventilator forcing air into the lungs. (Today's Medical Developments)

Early Stage Functional Electrical Stimulation Company Appoints New Director
Nov. 19, 2013 - Medtronic Inc.'s former vice president and general manager of neuromodulation, Karl Schweitzer, was appointed to the board of EBS Technologies GmbH, an emerging device company developing a noninvasive electrical brain stimulation platform to expand the visual field in patients whose vision is impaired following stroke or other nerve damage. The NEXT WAVE(TM) platform stimulates firing along optic pathways. (Market Watch)

CE Mark Approval for Deep Brain Stimulation System Use in Dystonia
Nov. 19, 2013 - Boston Scientific Corporation received CE mark approval for European use of its deep brain stimulation (DBS) system Vercise™ in intractable primary and secondary dystonia. The system has separate controls for each electrical contact to allow adjustment of stimulation fields and tailor treatment in order to manage or reduce symptoms of the condition. The system is investigational in the U.S. although the FDA permits use of deep brain stimulation in dystonia through a Humanitarian Device Exemption. (PR Newswire)

Parkinson's Disease Trial Combines Tissue for Nerve Repair and Deep Brain Stimulation
Nov. 18, 2013 - A professor at the University of Kentucky has already enrolled five of an expected six patients to undergo both deep brain stimulation and an autologous transplant of peripheral nerve into the brain in a Phase I safety and feasibility trial in Parkinson's disease. The tissue graft is intended to stimulate repair of brain regions that progressively degrade in Parkinson's disease. Since some peripheral nerves can regenerate, the procedure involves taking about an inch of peripheral nerve from above the ankle, and grafting the tissue into the patient's substantia nigra during the deep brain stimulation surgery, where the tissue may release nerve growth factors. Early results showed the five patients were able to stop taking Parkinson's disease medication one month after surgery. (University of Kentucky)

High-Frequency Transcranial Magnetic Stimulation Improved Motor Symptoms in Parkinson's Disease
November 2013 - International Neuromodulation Society member Youichi Saitoh, MD, PhD and colleagues report a randomized, double-blind cross-over trial of 21 Parkinson's disease patients that compared sham stimulation with high-frequency repetitive transcranial magnetic stimulation (HF rTMS). In the clinical trial, they found HF rTMS over the primary motor foot area significantly improved motor symptoms. The authors report no adverse effects and found daily repeated stimulation was not significantly more effective than a single session, but may maintain motor symptom improvement.

First Responsive Brain Stimulation System Receives FDA Clearance
Nov. 14, 2013 - NeuroPace, Inc. of Mt. View, Calif. received premarket approval from the FDA for the first closed-loop responsive brain stimulation system, an adjunctive treatment for adults with partial onset seizures not controlled by two or more epileptic drugs. The RNS® System is designed to detect certain types of pre-seizure electrical activity in the brain and deliver small bursts of electrical stimulation intended to reduce the frequency of seizures. (U.S. News and World Report)

Neuromodulation Benefits in Fecal Incontinence Explained to Healthcare Providers
Nov. 7, 2013 - A review intended to expand knowledge among non-surgically skilled providers who deal with patients who have fecal incontinence describes neuromodulation as an effective, minimally invasive procedure with a low rate of adverse events and an apparently favorable cost-efficacy profile. (World Journal of Gastroenterology)

Safety Limits for Electrical Lead Heating Explored
Nov. 14, 2013 - In animal studies, physicians investigated what might be a safe lead-tip temperature for induced neurostimulation lead heating, finding 43 degrees C for 30 minutes appeared, in tissue examination seven days after recovery, to not cause clinically evident thermal damage. (Neurosurgery)

News Profile Explains Deep Brain Stimulation Surgery
Nov. 13, 2013 - A physician who pioneered a deep brain stimulation (DBS) program at Penn State Hershey said none of his more than 300 patients have chosen to reverse the procedure, and adds he thinks "we're just scratching the surface of what DBS can do." (Pennsylvania State University)

Neurostimulation Developer Collaborates with Designer of Power-Efficient Circuits
Nov. 13, 2013 - For the past 12 months, Rosellini Scientific, LLC of Dallas, Texas has been collaborating with NanoWattICs SRL of Montevideo, Uruguay to develop a suite of implantable, wireless and non-invasive neurostimulation technologies for applications including migraines and neuropathic pain. Montevideo, Uruguay- based NanoWattICs received a grant to partially fund this work from the Agencia Nacional de Investigación e Innovación in Uruguay. The company focuses on custom circuits that maximize battery life in portable applications. (PR Web)

Investigators Look At Implanting Biologically Active, Plastic Electrodes Made on 3D Printers
Nov. 13, 2013 - New organic materials that also conduct electricity might become part of a plastic brain implant embedded with nerve-growth factors or other biologically active proteins to make it a biologically active device, in a technology under development in Australia through a $675,000 National Health and Medical Research Council grant. Led by the ARC Centre of Excellence for Electromaterials Science, which includes the University of Wollongong, St. Vincent's Hospital, and La Trobe, Monash and Deakin universities, the project involves electrodes produced by 3D printers that will be implanted in the frontal area of brains of animals who have genes for susceptibility to schizophrenia. (Herald Sun)

Eating Disorder Study Implicates Neural Circuit Differences in Treatment Responders
Nov. 13, 2013 - In research presented at the Society for Neuroscience annual meeting in San Diego, 20 patients suffering from anorexia or bulimia received 20 sessions of repetitive transcranial magnetic stimulation over 4-6 weeks. Almost half of patients had a 50% drop in binging and purging; another third had an 80% improvement, and some patients eliminated the behavior altogether. The study targeted an area of the brain involved in executive control of thoughts, emotions, and behavior. Responders showed less connectivity to this regulatory center in brain scans, while non-responders had more, suggesting the latter group might respond to stimulation designed to inhibit rather than excite that region. (Philly.com)

Computational Work May Lead to More Efficient Deep Brain Stimulation Leads
Nov. 13, 2013 - Bryan Howell, a PhD candidate in the department of biomedical engineering at Duke University, presented a poster at the 6th International IEEE EMBS Neural Engineering Conference in San Diego, about modeling electrodes for deep brain stimulation that provide more efficient battery use and precise stimulation. (International Science Grid This Week)

Noninvasive Brain Stimulation Studied for Smoking Cessation
Nov. 13, 2013 - In a sham-controlled study of smoking cessation in 115 smokers, high-frequency repetitive transcranial magnetic stimulation combined with an advance cue led to a quit rate of 44%. The same stimulation without the cue led to a 25% quit rate, and sham or low-frequency stimulation resulted in only 13% of subjects quitting. The treatment, presented at the Society for Neuroscience annual meeting in San Diego, targeted the prefrontal cortex and insula. (MedPage Today)

Nature Magazine Covers Member's Work on Closed-Loop Sensing for Brain Stimulation Therapies
Nov. 12, 2013 - International Neuromodulation Society member Kendall Lee, MD, PhD reported at the Society for Neuroscience's annual meeting in San Diego on preclinical development of a new deep-brain stimulation device, Harmoni, that monitors both electrical activity and neurotransmitter release -- chemical activity -- in response to deep brain stimulation. The system could potentially become a closed-loop device that wirelessly transmits recordings and adjusts stimulation based on the readings. Harmoni's chemical sensing is accomplished through a localized cyclic voltage change that transiently drives electrons off certain neurotransmitters.That induces a measurable current, enabling detection of the unique electrical signature of the neurotransmitter. So far, the developers have been using functional magnetic resonance imaging to watch areas in the brains of rats or pigs that respond to an implant stimulus. Sensors are then placed in these sometimes-distant brain regions. In an observation that might guide development of a device for conditions such as Parkinson's disease, the team was able to show activity in the caudate nucleus following stimulation of the subthalamic nucleus, for instance. (Nature)

Neuromodulation Center Formed to Accelerate Technical and Theoretical Academic Pursuits
Nov. 11, 2013 - Emory University is creating a new center for clinicians, researchers, and engineers working on deep brain stimulation. The Emory Neuromodulation and Technology Innovation Center, ENTICe, will provide technology transfer and commercialization expertise to collaborators from the departments of Neurosurgery, Neurology, Psychiatry, Rehabilitation, Biomedical Engineering, Neuroscience, and Psychology as well as the Yerkes Primate Center and Georgia Tech. (Emory University)

Tampa-Area Facilities Have Provided Deep Brain Stimulation for 20 Years
Nov. 12, 2013 - The University of South Florida and Tampa General Hospital celebrate 20 years of deep brain stimulation for movement disorder. A woman who gave up work due to her worsening symptoms of essential tremor, and whose family had been considering assisted living for her, wondered how it took her 17 years to learn of the option, and has now recovered her independence. (ABC Action News)

Column Describes Novelist's Journey Towards Deep Brain Stimulation for Parkinson's Disease
Nov. 11, 2013 - The author of best-selling Gorky Park and other books, Martin Cruz Smith, revealed that he had Parkinson's disease for 18 years and had received deep brain stimulation (DBS) to control his worsening symptoms. He is now able to go on a book tour for his new novel, Tatiana. In an interview, he says he believes most people still would not know what DBS is and patients might initially view it as presenting a sort of second assault on their brain. His physicians at the University of California, San Francisco, took care to minimize potential side effects that might impact his verbal fluency by using a unilateral implant in the globus pallidus of his left hemisphere to treat his worst symptoms. (New York Times)

Heart Failure Patient Describes His Experience With Vagus Nerve Stimulation
Nov. 11, 2013 - A 74-year-old man who received active vagus nerve stimulation starting five months ago as a participant in the Inovate-HF (Increase of Vagal Tone in Heart Failure) clinical trial said his last checkup showed one leaky heart valve had started to heal by itself and he feels as if his heart has received rest and recuperation and he has a new lease on life. His physician adds that the stimulator appears to act therapeutically in a way no drugs have been shown to do. (Mail Online)

Startup Raises Money to Develop Flexible Electrodes for Spinal Cord Stimulation
Nov. 8, 2013 - Wise s.r.l. raised €1million in venture capital to finalize its spinal cord stimulation prototype and begin preclinical development. Wise (Wiringless Implantable Stretchable Electronics) is developing silicon-based electronic microcircuits that resist stretching and twisting without fracture or dislocation. The platform might also be used in consumer electronics. Based in Berlin and Milan, the company raised funds from venture capital firms in Germany and Italy. (StartupItalia!)

Veteran Becomes Advocate for Chronic Pain Patients and Medical Devices
November 2013 - A 33-year-old veteran who found back pain relief in a clinical trial of spinal cord stimulation at Fort Bragg in North Carolina has become an advocate for medical devices and chronic pain sufferers, saying that being able to test-drive a device was incredibly appealing to him after years of opiate dependence. (AdvaMed)

Editorial Cites Evidence for Using Neurostimulation to Reduce Opioid Use

November 2013 - "In all cases of chronic non-cancer pain, neurostimulation should be given some consideration, and if appropriate trialed for possible long-term use," writes International Neuromodulation Society President-Elect Timothy Deer, MD, in an editorial on digital drugs reducing or eliminating the need for opioids in the treatment of chronic pain. (Expert Review of Medical Devices)


Pudendal Nerve Stimulation Patients Share Their Stories
Nov. 6, 2013 - About six weeks after receiving a pudendal nerve stimulator for bladder dysfunction or pelvic pain, five women who all traveled to Michigan on the same day for treatment all share their improvement in symptoms in a news feature. (Detroit News)

Efforts Advance to Develop Neural Prosthetics for Spinal Cord Injury
Nov. 6, 2013 - A blog post describes how personalized neuroprosthetics may be enabled by early clinical and pre-clinical research on spinal cord-injured subjects in labs around the world, which are gaining attention through presentations and articles lately. (TED Blog)

State Invests in Neuromodulation Academic Pursuit
Nov. 5, 2013 - Neuromodulation is one of four areas to receive investment from the state of Minnesota through the MnDRIVE initiative funded by the legislature at the University of Minnesota (leading to new faculty openings http://www.nature.com/naturejobs/science/jobs/351465-mndrive-neuromodulation-scholars). The other areas in the two-year, $35.6 million innovation investment are food production, robotics, and water quality. (University of Minnesota)

Mechanisms of Deep Brain Stimulation and Its Applications are Explored
November 2013 - In a Neurosurgical Focus article, authors from Columbia University Medical Center and Keck Hospital of the University of Southern California discuss use of deep brain stimulation in motor disorder and psychiatric or emerging indications, and its proposed mechanisms, such as activation and inhibition of neural circuits or reseting of rhythmic activity. They also consider possible future refinements as understanding evolves about the brain's interconnected "oscillations and burst firing patterns that we are just beginning to decode." (Journal of Neurosurgery)

Preliminary Findings Presented on Cost-Effectiveness of Spinal Cord Stimulation in Failed Back Surgery Syndrome
November 2014 - International Neuromodulation Society member Richard North, MD, presented preliminary findings at the 2013 International Congress on Neuropathic Pain showing that in 42 failed back surgery syndrome (FBSS) patients followed for a mean of just over 3 years, "SCS was more effective and, given the high failure rate in the reoperation group, incrementally less expensive than reoperation in selected FBSS patients." (Pain Medicine News)

Study Assessed Effects of Transcranial Magnetic Stimulation on Social Skills in Autism
Nov. 1, 2013 - A randomized, double-blinded clinical trial of 28 adults with high-functioning autism or Asperger's syndrome, aimed at using sessions of repetitive transcranial magnetic stimulation to stimulate the dorsomedial prefrontal cortex, showed a significant improvement one month later in social skills and reduced anxiety. The region stimulated had been shown to be underactive in people with autism and is an area linked with understanding others' thoughts, beliefs and intentions. (New Scientist)

Podcast Describes Deep Brain Stimulation Research in Treatment-Resistant Depression
Nov. 1, 2013 - Science magazine presents a news focus on deep brain stimulation and depression -- the research and its implications for developing more precise treatment -- in a special issue on neuroscience. The staff writer of the news focus was interviewed in an 8-minute podcast available for listening to on the publication's website. (Science)

Review of Deep Brain Stimulation in Four Neuropsychiatric Conditions
Nov. 1, 2013 - A review of deep brain stimulation for Parkinson's disease, Tourette syndrome, depression and obsessive compulsive disorder by psychiatrist Nolan R. Williams, MD and neurologist Michael S. Okun, MD, examines optimizing stimulation for each, its potential positive and negative effects, and likely future innovations involving electrical modulation of neural networks. (Journal of Clinical Investigation)

Analysis Assesses Cost-Effectiveness of Various Test-Phase Options for Sacral Neuromodulation
November 2013 - Using Medicare physician fee schedules and published studies, an analysis of the cost-effectiveness of various test-phase strategies for sacral neuromodulation indicates that unilateral and bilateral Stage I implantation were the most cost-effective in terms of quality-adjusted life years, with bilateral preferred for greater treatment effectiveness. (Female Pelvic Medicine & Reconstructive Surgery)

To see select neuromodulation news by category, as well as news about the INS in particular, please visit the Newsroom. To see archived news briefs dating back to January 2011, visit the News Archive.

---
How Has Neuromodulation Been Developed and Used?

Conventional medicine has typically had four modes of treating diseases or disorders: counseling or "talk therapy"; physical therapy involving manipulation and strengthening of muscles and range of motion; pharmaceuticals that act on a chemical level; and altering or augmenting tissue through surgery, injections, or filtering methods like dialysis. The growing field of neuromodulation is a new class of therapies that involves directly treating the nervous system itself, often through small implanted devices that target a specific area, to rebalance the activity of neural circuits and manage symptoms.
Progress has been spurred by advances in our understanding of the nervous system, as well as new technologies and clinical experience, enabling treatments to modify nerve cell activity in brain, spinal cord and periphery to restore function, minimize pain, and treat disease symptoms. Developed over the last 45 years, neuromodulation has grown rapidly into a family of therapies that applies stimulation or agents directly to the nervous system, often using small implanted medical devices that are powered in a similar fashion to a cardiac pacemaker. By delivering electrical or chemical stimulation, neuromodulation has increasingly been used to treat motor disorders such as Parkinson's disease, refractory chronic pain ranging from neuropathy to cancer related pain to severe headaches, spasticity, epilepsy, and incontinence. It is also under study for conditions ranging from gastroparesis to medically refractory depression. Providers of such therapies include neurosurgeons, pain physician specialists and rehabilitation physicians. They may often work with other specialists such as neurologists, psychiatrists, psychologists, gastrointestinal or colorectal specialists, urologists, primary care physicians, and physical therapists to achieve best outcomes.
Medical Professionals can learn about various considerations concerning neuromodulation and clinic contacts. Once your preliminary questions have been answered, please use the Contact Us facility to find out more and to discuss specific objectives. Others may simply wish to join the INS and one of its related chapter societies, please use Membership Application.
Clinical trials that involve a wide range of emerging neuromodulation approaches are listed on our Resources and Research pages. Neuromodulator trials address symptom control through nerve stimulation in such condition categories as:

If you are not a medical professional and you are searching for information about neuromodulation and how these types of treatment could benefit a specific condition such as treatment-resistant headache or other chronic pain syndromes, you may find the sections titled Therapies, About Neuromodulation or FAQs particularly helpful.
The International Neuromodulation Society (INS) is a non-profit group of clinicians, scientists and engineers dedicated to the scientific development and awareness of neuromodulation - the alteration of nerve activity through the delivery of electrical stimulation or chemical agents to targeted sites of the body. Founded in 1989 and based in San Francisco, CA, the INS educates and promotes the field through meetings, its bi-monthly, peer-reviewed journal Neuromodulation: Technology at the Neural Interface, explanatory content, and chapter websites.

See patient information
---
Now indexed in MEDLINE!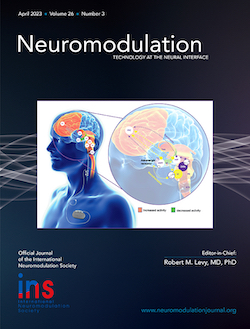 Neuromodulation: Technology at the Neural Interface contains articles of the highest scientific caliber. The journal's sole purpose is to advance the basic and clinical science of the field of neuromodulation. It publishes scientific works, scientific reviews, and abstracts of papers accepted for review at national and international congresses.
Neuromodulation is now indexed in Index Medicus, MEDLINE and Pubmed!
Click here to submit a manuscript.
---
Unique Member Benefit

Members may log in and visit the members-only section's Global Discussion Forum to participate;
watch for updates on our
Events page and in our journal
---
---