International Neuromodulation Society Online Moderated Discussion
As a special benefit to members, the INS offers secure areas for members-only discussions and resources. Watch this space for upcoming announcements.
---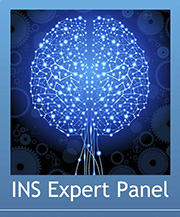 Join Us!
Periodic discussions take place in the Members Only Area of the INS website, where they are archived for later viewing.

November 2016 Panel: Spasticity Management

From Nov. 1 – 15, 2016, two INS co-moderators, Drs. Konstantina Petropoulou and Michael Saulino, will focus on Spasticity Management. They are accomplished practitioners who have produced prestigious publications and presentations about this indication:

Konstantina Petropoulou, MD, PhD, is head of the Greece National Health System's 2nd Department of Physical and Rehabilitation Medicine (PRM) in Athens. She focuses on neurological rehabilitation in the 60-bed unit that serves patients with spinal cord injury (SCI), multiple sclerosis (MS), stroke, traumatic brain injury (TBI) and other diseases. Her outpatient consultations cover SCI, stroke, MS, TBI, spasticity management, neurogenic bladder and bowel, osteoporosis, sexuality management, neuroplasticity, and driving evaluations. She is a former PRM senior fellow and since 1998, has overseen five PRM specialists and eight PRM trainees, as well as the rehabilitation team (who represent nursing, physiotherapy, occupational therapy, speech therapy, social services and related functions). She and her department are accredited for the training of PRM medical residents both nationally and through the European Union of Medical Specialists. A past president of the Hellenic Society of Physical and Rehabilitation Medicine, she serves in organizing and scientific committees of annual congresses, workshops and seminars.

For the INS newsletter and website, in 2013 Dr. Petropoulou wrote a well-received, comprehensive review for healthcare providers on "Managing Spasticity with a Focus on Rehabilitation". Her abbreviated curriculum vitae provides a list of more publications she has authored on the subject.

Michael Saulino, MD, PhD, recently co-authored a number of papers on best practices in intrathecal drug delivery in the August 2016 issue of Neuromodulation: Technology at the Neural Interface. Dr. Saulino, a physiatrist at MossRehab, is board certified in Physical Medicine and Rehabilitation, Spinal Cord Injury Medicine and Pain Management. Dr. Saulino earned his PhD (Biological Chemistry) and MD degrees from the Pennsylvania State University College of Medicine in 1993. He completed residency training in Physical Medicine and Rehabilitation at Thomas Jefferson University in 1997. He was chief resident in his final year of residency training. He has academic appointments at both the Sidney Kimmel Medical College and Temple University Medical College.

Dr. Saulino's areas of clinical and research interest include pain management, spasticity management, and intrathecal therapy. Dr. Saulino has published a number of scientific articles in prestigious medical journals including the PM&R, Archives of Physical Medicine and Rehabilitation, American Journal of Physical Medicine and Rehabilitation, Neurorehabilitation and Neural Repair, Neurology, Spinal Cord and Neuromodulation.

How to join the discussion - all members are welcome!

Members may use the following instructions to navigate to the discussion board –

1) Choose "login" from the grey navigation buttons on the upper left to reach http://www.neuromodulation.com/login

2) Enter your Username and Password (you may want to click "remember me"), and click the login button

3) If not automatically directed there, click the "Members-Only Section" button on the left-hand navigation pane

4) After the members' welcome page opens, the entrance to the discussion board will be the fourth item down, shown with the green line at the bottom of the screen shot below: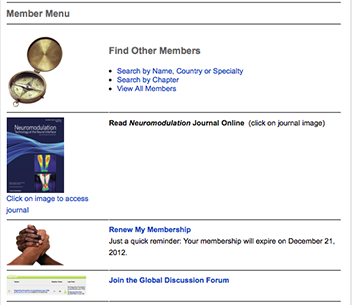 5) When the forum page opens, choose the Expert Panel, the second item in the green discussion area shown below, and enter your questions and perspectives, which will be moderated daily during the active discussion period (and then will remain open for later viewing or comments)
6) Check back frequently to view responses and comments
Note: Members are also welcome to carry out discussions in the general discussion section at the top of the discussion board (as well as to notify the Executive Office at INS@neuromodulation.com with suggestions for future discussions, or observations that might improve the experience).
---
More about past panels:
The October 2014 panel:
"Neuromodulation and Ischemic Pain"
INS President Dr. Simon Thomson, Dr. Shoaeddin Damirchi, and Dr. Gianni Colini Baldeschi
Dr. Damirchi, Chief Vascular Surgeon, Evangelisches Krankenhaus Herne, Director of the Vascular Center Herne / Castrop-Rauxel, Germany, remarked, "As a vascular surgeon in a high-volume center my daily routine is to revascularize patients with critical limb ischemia, if necessary in open, endovascular or hybrid procedures down to the foot. But despite all efforts there is a certain percentage where no or no more revascularization is possible. I always looked out for possibilities to save those patients from major amputation. In 2010,I started using neuromodulation in non-reconstructable limb ischemia and would not want to miss this effective treatment in well-chosen cases. I look very much forward to a stimulating discussion with colleagues sharing our experiences with more than 80 cases."
The August 2014 panel:
"How do we take neurostimulation beyond the Neuromodulation Appropriateness Consensus Committee (NACC)?"

INS President Dr. Simon Thomson, INS President-Elect and NACC Chair Dr. Timothy Deer, INS Secretary Dr. Marc Russo, and INS Editor-in-Chief Dr. Robert Levy

(To learn more about the co-moderators, please read about them on the INS Board page.)

The committee findings represent the first set of comprehensive guidelines regarding appropriate use of neurostimulation in chronic pain, and have been structured to facilitate periodic updates. The articles are intended to help both newer and more-experienced practitioners make sense of the wide-ranging scientific literature on neurostimulation for chronic pain. Formation of the NACC was modeled after the Polyanalgesic Consensus Conference, which has issued guidelines and updates four times since 2000 regarding the use of intrathecal drug delivery systems for chronic pain.
The January 2014 panelists:
Dr. Peter Goadsby and Dr. Richard L. Weiner
Co-moderators Dr. Peter Goadsby and Dr. Richard L. Weiner addressed the evidence for, and challenges of, occipital nerve stimulation for medically refractory primary headache in a discussion that coincided with publication in Neuromodulation: Technology at the Neural Interface 16:6 of a retrospective case series, "Long-Term Outcome in Occipital Nerve Stimulation Patients With Medically Intractable Primary Headache Disorders."

Peter Goadsby, MD, PhD, directs the Headache Center at the University of California, San Francisco and co-authored the ONSTIM (Cephalalgia 2011), PRISM, and ICON studies of occipital nerve stimulation for medically intractable migraine or cluster headache, respectively.


Richard L. Weiner, MD, clinical associate professor of neurosurgery at the University of Texas Southwestern Medical Center and Chairman of Neurosurgery at THR Presbyterian Hospital of Dallas, developed subcutaneous peripheral nerve stimulation for relief of medically refractory occipital pain, with colleagues, conducting "first in man" implantation in the 1990s, which was published in Neuromodulation (Weiner RL, Reed KL. Peripheral neurostimulation for control of intractable occipital neuralgia. Neuromodulation. 1999 Jul;2(3):217-21. doi: 10.1046/j.1525-1403.1999.00217.x.).
INS President Dr. Simon Thomson and INS Director-at-Large Dr. Konstantin Slavin
A discussion on the pros and cons of percutaneous vs. paddle leads for spinal cord stimulation (SCS) was co-moderated by Dr. Thomson, consultant in Anaesthesia and Pain Management at Basildon and Thurrock University NHS Trust, along with INS Dr. Slavin, professor of neurosurgery and head of Stereotactic and Functional Neurosurgery at the University of Illinois at Chicago. Dr. Thomson has been using SCS for 21 years and has extensive experience placing percutaneous cylindrical SCS leads. He has also been involved in research, guideline writing, training, teaching and clinical audit. With a keen interest in spinal cord stimulation becoming a standard of practice to manage refractory pain of neuropathic, ischaemic or visceral origin, he has worked to ensure there is high quality clinical evidence for the effectiveness and safety of this therapy at an affordable cost. Dr. Slavin has treated hundreds of patients with SCS over the past 15 years, and was selected to co-host this discussion because of his expertise in both percutaneous and laminectomy-type SCS electrodes. Among other publications, Dr. Slavin co-authored "NANS Training Requirements for Spinal Cord Stimulation Devices: Selection, Implantation, and Follow-up" in Neuromodulation: Technology at the Neural Interface in 2009 and a recent paper on "Incidence and avoidance of neurologic complications with paddle type spinal cord stimulation leads", published in Neuromodulation: Technology at the Neural Interface in 2011.

The October 2013 panelist:
Prof. Turo Nurmikko, MD, PhD
"Repetitive Transcranial Magnetic Stimulation for Neuropathic Pain" was presented Oct. 8 through Oct. 22, 2013 by Prof. Turo Nurmikko, MD, PhD, professor in Pain Relief, The Walton Centre NHS Foundation Trust, and director of the Pain Research Institute. He has led several research projects involving the peripheral and central mechanisms of chronic and experimental pain that involve the use of a variety of techniques such as functional and structural brain imaging, non-invasive brain stimulation, quantitative sensory testing and electrophysiology. This includes a number of studies involving the role of transcranial magnetic and transcranial direct current stimulation of the brain in chronic pain.


The July 2013 panelists:
Prof. Frank Huygen, MD, PhD, FIPP, Marc Russo, MBBS DA FANZCA FFPMANZCA
"Neuromodulation in Complex Regional Pain Syndrome" was presented by Prof. Frank Huygen, MD, PhD, FIPP, professor of Pain Medicine and head of the Center for Pain Medicine at Erasmus University Medical Centre in Rotterdam, and INS Secretary Marc Russo, MBBS, DA(UK)FANZCA, FFPMFANZCA, founder, past president and secretary of the Australian chapter of INS. Dr. Huygen is internationally recognized in the field. Dr. Russo directs the Hunter Pain Clinic in New South Wales and Inpatient CRPS Management Program at Lindard Private Hospital in Newcastle, Australia. He has treated more than 700 CRPS patients.

The April 2013 panelists:
Prof. Tipu Aziz, FMedSci, Alex Green, MD
"Deep Brain Stimulation for Neuropathic Pain" was presented by Prof. Tipu Aziz, FMedSci and Alex Green, MD of Oxford University. Together, they have treated some 5% of all patients who have had this procedure, and have published a retrospective study of their results in 59 patients over the course of up to 12 years.

The March 2013 panelist:
Leonardo Kapural, MD, PhD

Voted by his peers as a "Best Doctor in America," Leonardo Kapural, MD, PhD is a professor of anesthesiology at the Wake Forest University School of Medicine and clinical director of the Wake Forest University Health Sciences Center Chronic Pain Center, Carolinas Pain Institute and Center for Clinical Research. Dr. Kapural moderated a discussion on "Neuromodulation for Visceral Pain." He has published more than 150 journal articles and abstracts and 20 book chapters regarding his interests, which center on discogenic low back pain, visceral abdominal pain, and spinal cord/peripheral nerve stimulation.

The Winter 2013 panelist:
Krishna Kumar, MD
Krishna Kumar, MD, is a clinical professor of neurosurgery at the University of Saskatchewan, School of Medicine, moderated a session on the topic of "Spinal Cord Stimulation Candidacy."

The founding president of the Canadian Society of Neuromodulation and former director of the North American Neuromodulation Society (INS chapters), Dr. Kumar has presented and published more than 150 papers nationally and internationally, including a seminal paper, "Spinal cord stimulation versus conventional medical management for neuropathic pain: a multicentre randomised controlled trial in patients with failed back surgery syndrome," published in Pain in 2007 (with co-authors Rod Taylor, PhD, and Line Jacques, MD).

The November 2012 panelist:
Elliot Krames, MD
Dr. Krames, founder and emeritus editor-in-chief of the journal Neuromodulation: Technology at the Neural Interface, and past president of the International Neuromodulation Society, moderated an online discussion on "The Choice of Intrathecal Drugs for Pain."
online biography for Dr. Krames:
Co-author,
Neuromodulation vol. 1-2

The October 2012 panelist:
Timothy Deer, MD
Dr. Deer, International Neuromodulation Society president-elect and lead author of the newly released Polyanalgesic Consensus Conference findings, joined Director-at-Large Eric Buchser, MD to moderate an online discussion on "Evolving Recommendations and Future Considerations Regarding Intrathecal Drug Delivery to Manage Pain".
online biography for Dr. Deer:
President-Elect
International Neuromodulation Society
The summer 2012 panelist:
Dr. Barolat led a panel from Aug. 29 - Sept. 12, 2012, drawing more than 600 views during the two-week session. His two topics were "Peripheral Nerve Field Stimulation" and "Avoiding Lead Migration". A pioneer of spinal cord stimulation for spasticity and pain management, he operates one of the largest neuromodulation practices in the United States, with patients referred from all over the country.
He is certified by both the American and the Italian Board of Neurosurgery. He served from 1994 - 2000 as president and from 2004 - 2007, and again in 2008 - 2011 as director-at-large of the International Neuromodulation Society, of which he is a founding member.
online biography:
The initial 2012 panelist:
Konstantin V. Slavin, MD
The first Expert Panel hosted in 2012 was moderated by Director-at-Large Dr. Konstantin Slavin, professor in the Neurosurgery Department of the University of Illinois at Chicago, about peripheral nerve stimulation (PNS) for pain and other aspects of neuromodulation. During the first year, he took a lead role in organizing and overseeing periodic panels. More on his background:
online biography:
Director-at-Large
International Neuromodulation Society
faculty page:
Professor
Department of Neurosurgery
University of Illinois at Chicago

additional leadership positions:
Director (ex-officio) and Past Secretary
North American Neuromodulation Society
www.neuromodulation.org
President
American Society for Stereotactic and Functional Neurosurgery
http://www.assfn.org
Vice-Secretary/Treasurer
World Society for Stereotactic and Functional Neurosurgery
www.wssfn.org