Neuromodulation News: March 2019

President's Message l Abstract Submissions l New Plenary Session on Conflict of Interest l INS 14th World Congress Allied Health Session l Public Event to Be Held Prior to the INS 14th World Congress l Journal Seeks an Associate Editor for Social Media and Enhanced Web Content l Receptions for Young Neuromodulators and International Women in Neuromodulation l WIKISTIM Reflects Field's Growth l Ways to Get Involved
A Message from the President
I have written extensively about the INS goals during my term, including the development of curricula, certification and centers of excellence in neuromodulation as well as the development of guidelines for research and clinical trials in our specialty. We must further emphasize, however, the organizational issues that face the International Neuromodulation Society (INS) now nearing its 30th year. Structures and processes appropriate for a small, new organization during the mid-1990's seem to have become outdated and unable to serve the large, mature international organization that the INS has become.
Nowhere is this more evident and concerning than in how we address issues of commercial bias and conflict of interest within our leadership and educational products. As I have assumed the office of president, these issues have moved to the forefront, limiting to some extent our ability to work on our other most important goals. The INS stands poised to resolve these issues with honesty, transparency and in consultation with major stakeholders in this field.
As a first step, and for the first time in its history, the INS convened a meeting with its executive board of directors, members of the new conflict of interest committee and the presidents, CEOs and selected officers from the neuromodulation device industry. The purpose was for the INS delegation to LISTEN and gain insight from the perspective of Industry and their regulatory compliance departments. Their concerns were, in fact, many and focused on:
real and perceived biases within society leadership;
how to provide unbiased yet expert leadership for the INS;
the need for physician expert consultation to industry;
the potential for further government regulation of the relationship between industry and physician consultants.
The INS leadership is now in a period of intense and focused processing of this information, review and evaluation of organizational best practices, expert consultation and the development of a robust new conflict of interest policy that meets the needs of our organization, the INS, as well as physicians, Industry, regulators and, most importantly, our patients.  We intend to be both fair and comprehensive.  We further understand the gravity of and the need for efficiency in this process.  Once established, our revised stated policy shall become a living document that is reviewed at regular intervals to ensure its currency and appropriateness. 
We further understand that this process must not interfere with those functions of the INS that provide such value to our membership.  We are confident that our journal, Neuromodulation: Technology at the Neural Interface, will continue to excel under the leadership of Acting Editor-in-Chief, Dr. Robert Foreman.  Our biennial congress in Sydney, Australia, promises to be even greater than we had hoped under the direction of Congress Chair, Dr. Marc Russo, and with an exciting scientific program and excellent abstract submissions from our members around the globe.  The INS and journal staff continues to work tirelessly maintaining the health of the INS, the journal, and our society's services.  Our Executive Board of Directors, including Prof. Jan Vesper (treasurer), Dr. Konstantin Slavin (secretary), Dr. Robert Foreman (acting editor-in-chief), Dr. Timothy Deer (past-president) and I are dedicated to the tremendous growth, reputation and success of the INS.
Robert M. Levy, MD, PhD
INS President

---
INS 14th World Congress Abstract Submissions
Thank you to all who submitted scientific abstracts for the INS 14th World Congress in Sydney. We received 406 abstract submissions from 33 countries. Of the submissions, 17 were in the "late-breaking results" category. Authors were sent acceptance notifications in late January. All accepted abstracts will be available for viewing as posters at the Congress, and later published in an online edition of Neuromodulation: Technology at the Neural Interface. In addition, more than 100 submitted abstracts will be selected for oral presentation.
A breakdown of the categories and country of origin appears below.
As part of the third INS abstract competition, the top five oral abstracts will be acknowledged at the INS 14th World Congress, with the authors presenting these abstracts during a plenary session on May 27.
As a special aspect of this Congress, the final morning of the INS 14th World Congress on May 30 includes a morning session on Neuromodulation in Asia. On May 25, a daylong preconference features Non-invasive Brain Stimulation.
Abstract Author's Country of Origin
USA
131
 
Ireland
 35
Australia
 40
Hungary
  5
United Kingdom
 34
Argentina
  2
Germany
 29
Belgium
  2
Spain
 21
Denmark
  2
Republic of Korea
 20
Portugal
  2
Italy
 15
Sweden
  2
Japan
 11
Albania
  1
China
 10
Austria
  1
Taiwan R.O.C.
 10
Czech Republic
  1
Turkey
 10
Finland
  1
France
  9
Hong Kong S.A.R.
  1
India
  9
Israel
  1
Canada
  7
Nigeria
  1
New Zealand
  7
Pakistan
  1
Russia
  6
 Switzerland
  1
The Netherlands
  6
 
 
Abstract Topics by Category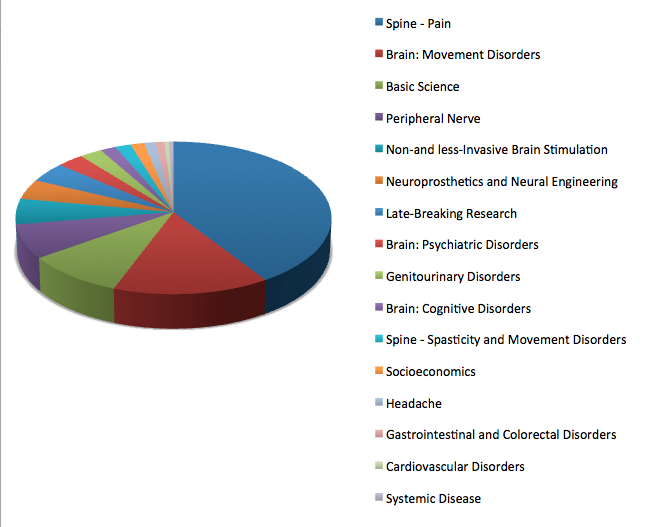 ---
INS 14th World Congress Plenary Session on Conflict of Interest

We are pleased to announce the INS 14th World Congress's inaugural session on "Conflict of Interest (COI) in Neuromodulation", an opening plenary panel discussion that will take place on Wednesday, May 29, from 8:00 - 8:30 a.m.
This session provides a timely opportunity to examine critical, complex issues and develop perspective from leading world experts on how practitioners can avoid and manage conflict-of-interest scenarios.
The panelists include a health ethicist, Prof. Wendy Lipworth, PhD MSc MBBS BSc (Med) Hons, Associate Professor, Sydney Health Ethics, Sydney School of Public Health, Sydney University. Her activities include postdoctoral and career development fellowships on the ethics of emerging therapeutics; supervision of research into the ethics and politics of off-label prescribing and clinical innovation; and interests in policy development concerning health technology innovation and translation; the transparency of therapeutics research; access to interventions and evidence and coverage development; and resource allocation.
The panel will be moderated by Ms. Stana Bojanic, BSc MB BS FRCS (SN), Consultant Neurosurgeon and Spinal Surgeon at the Oxford University Hospitals Trust and the Manor Hospital. Over the past 15 years, she has developed the Oxford Neuromodulation Service into a major implant center in the UK for patients with neuropathic pain, spinal pain and spasticity, with an integrated and holistic approach to management of chronic conditions. In addition, she is part of the Complex Face Pain Team at John Radcliffe Hospital.
The other panelists are respected thought leaders with neuromodulation expertise in pain management or epilepsy:
Dr. Sudhir Diwan (chronic pain, USA)
Dr. Martha Morrell (epilepsy, USA)
Dr. Richard North (chronic pain, USA)

---
Allied Health Practitioner Session Planned for the INS 14th World Congress

Nurses, psychologists, and physiotherapists from the U.K. and Australia will present during an INS 14th World Congress breakout session on Tuesday May 28, 2019, from 8:30 - 11:30 a.m. in a workshop featuring Allied Health aspects of neuromodulation therapy. The session is being convened by pain management nurses Rachel Whipp and Christin Bird, who are the scientific chair and president, respectively, of the Australasian Neuromodulation Nursing Special Interest Group (AANNSIG).
Presenters will cover the assessment, management, and rehabilitation of patients receiving neuromodulation therapies, such as spinal cord stimulation. They will also discuss the potential for stronger nursing roles in neuromodulation.
The session will conclude with a question-and-answer panel involving all the speakers: Rebecca Kennedy, Pain Management Nurse at Hunter Pain Clinic, Newcastle NSW, Australia; Carol Bourke, Clinical Nurse Specialist, Neuromodulation and Pain Management at Leeds Teaching Hospital, UK; Simon Pragnell, Psychologist, Oxford University Hospital, UK; Kristy Stone, Exercise Physiologist at Workplace Physiotherapy in Newcastle NSW, Australia; and Rebecca Richards, Pain Nurse, Pain Matrix, Adelaide SA, Australia.

---
INS 14th World Congress Public Event to Be Held

A free afternoon program for the public on "Neurostimulation: An established drug-free therapy for chronic conditions that can improve quality of life" is being organized by the International Neuromodulation Society and the Neuromodulation Society of Australia and New Zealand (NSANZ). Presented by leading medical experts and patients from Australia, it will take place from 12 - 4:30 p.m. on Sunday, May 26, 2019, at the International Convention Centre-Sydney.

The program will cover neurostimulation indications in chronic pain, urological disorder, and movement disorder. Setting the context for the presentations will be talks by International Neuromodulation Society President Robert Levy, MD, PhD; and INS Directors-at-Large Lawrence Poree, MD, PhD, and Marc Russo, MBBS DA FANZCA FFPMANZCA. The program is being chaired by NSANZ Secretary Nick Christelis, MBBCH, FRCA, FFPMRCA, FANZCA, FFPMANZCA, who will also provide an introduction and overview presentation.
We are honored to have a national media personality, Dr. Sally Cockburn, agree to serve as an emcee for the event.
This event follows an inaugural public event that was held before the 12th World Congress in 2015 in Montreal, which was produced by the Canadian Neuromodulation Society and INS.
Anyone interested in attending the May 26th event in Sydney may register at no charge. INS Congress participants are welcome to attend. Publicity information for the program is available on the NSANZ chapter page of the INS website.

---
Neuromodulation: Technology at the Neural Interface Seeks an Associate Editor for Social Media and Enhanced Web Content
If you are active on social media and would enjoy distilling science into social media and web content to educate a broad audience and grow Neuromodulation's online presence, read on!
We are seeking an enthusiastic, social media savvy neuromodulator to serve as the official social media and enhanced web content editor for Neuromodulation and to drive our journal's web presence. The ideal candidate will develop a network to coordinate the following tasks:
•     Review each early view article published in Neuromodulation and create 1-3 Twitter/Facebook/LinkedIn posts, tag authors and their institutions, spur discussions and participate in conversations on behalf of Neuromodulation and the International Neuromodulation Society.
•     Select relevant imagery to accompany each post, working with Neuromodulation's team to brand those images, if needed.
•     Expand the reach of Neuromodulation by raising awareness of the destination for digital conversation on neuromodulation topics.
•     Provide insights gained from responses to postings to the journal's editorial team, INS public education team, and marketing team at Wiley.
•     Adhere to INS guidelines, such as never sharing personal opinions, nor commercially biased content on Neuromodulation's / the INS's social media pages.
•     Work with Wiley's marketing and the INS's public education teams to learn social media protocols, expectations, style guidelines and other brand nuances.
•     Post initially on Twitter/Facebook/LinkedIn with possible expansion to other channels, such as:
Interviewing select authors and creating podcasts with Wiley's assistance, to enhance online journal content on Wiley's platform.
Establishing an efficient, standard process for creating, vetting and publishing visual abstracts for journal articles.
Benefits include the opportunity to serve on a Medline-Indexed journal editorial board, to gain visibility and recognition, and to network with prestigious leaders in the field of neuromodulation. The term of service is one year, which may be renewed.
To apply, please make sure you are a current INS member and submit a letter of interest and your CV by 8 March to: [email protected]

---
INS 14th World Congress Receptions for Young Neuromodulators, International Women in Neuromodulation
All Congress registrants are invited to attend receptions hosted by the INS Young Neuromodulator Committee and International Women in Neuromodulation to learn more about these committees' initiatives, meet the members who are driving their activities, and network with fellow delegates, and prospective mentors and mentees.
The Young Neuromodulators Reception will also highlight the new mentorship program that the committee is piloting.
Both events will be held in the Level 4 Foyer of the ICC Sydney, with a gorgeous view of Sydney's Darling Harbour.
Young Neuromodulators Committee Mentorship Reception
Date: Monday, May 27, 2019
Time: 18:30-19:30
International Women in Neuromodulation Reception
Date: Tuesday, May 28, 2019
Time: 18:30-19:30
Please stay tuned for more details.

---
What the Growth of WIKISTIM Says about Our Field
By Jane Shipley
WIKISTIM Managing Editor
We launched WIKISIM, a searchable database being populated with data published in the field of neuromodulation, in October 2013. Initially it had 32 subscribers and 500 clinical citations in a single section on spinal cord stimulation (SCS). In the intervening years, we have uploaded five more sections, which are now complete enough to shed light on the annual growth rate of the literature that reports primary data for each neural target.
When we launched the deep brain stimulation (DBS) section, we limited our search to specific indications; eventually, we were able to include all indications as well as experimental and modeling studies. We believe that this section's 13% growth (from 4,179 to 4,715 citations) in the past year indicates the annual growth of the literature reporting primary DBS data.
The section on the dorsal root ganglion (DRG) as a neurostimulation target is one of our smallest (some conflate DRG with SCS—even in titles of papers, but we organize WIKISTIM according to target nerves). This section has shown the greatest percentage growth, an average of 45% for the past three years. (Last year, for example, the number of citations increased to 94 from 66 in the previous year.)
We put the section in gastric electrical stimulation (GES) up wholesale and included meeting abstracts, which we have been removing as the definitive papers have been published. Last year, the GES section grew by 3% (465 to 478).
For peripheral nerve stimulation (PNS), we have limited ourselves (for the moment) to studies of peripheral nerve field stimulation. This section is growing at a rate of 7% per year but remains small (with 55 entries currently).
The SCS section is also growing at a steady rate of 7%, but, of course, this is 7% of a larger number. Even so, in the past year, the number of citations has increased by 149 (to 2,283), which is a manageable number for those wishing to keep current in this area of our field.
The section on sacral nerve stimulation (SNS) is also increasing at an average rate of 7%, with the rate going down slightly in each of the past three years. With only 920 citations, a dedicated researcher could readily become an expert in the SNS literature.
Overall, in the past year, our database has grown to 8,545 citations (a nearly 1,000-citation increase since February 2018).
The number of subscribers to WIKISTIM has also shown continued strong growth. At 896, we are 38% above February 2018 and 192% above February three years ago. Each month the number of subscribers spikes after the newsletter goes out and again after we send our welcome letter outlining the ways that WIKISTIM is useful as well as our goals for the site. We also see growth after meetings of the North American Neuromodulation Society and the International Neuromodulation Society, and, if our rate of growth continues, we look forward to welcoming our 1,000th subscriber in the spring.
Finally, our monthly newsletter continues to enjoy popularity, with an outstanding "open rate" that is consistently above 30%, a number that exceeds the 21% reported in some quarters for the healthcare industry.
To learn more about what WIKISTIM can do for you, please visit our ABOUT link, which is accessible without registration on our homepage (wikistim.org). WIKISTIM is free to use upon completion of a brief registration form. All users receive a monthly newsletter listing new citations with PUBMED links, which facilitates staying up-to-date with this rapidly developing field.


---
If you like what you see and want to become involved in the INS…
Attend the 2019 INS Congress in Sydney
Sign up to become a mentor or mentee
Join us or renew your membership now!
Submit an article to Neuromodulation: Technology at the Neural Interface or get content updates
Refer a colleague to INS!
Learn about our biennial Congress; access the promotional toolkit
Customize INS patient hand-outs with your contact details 
Volunteer for an INS committee
Visit our Global Events Calendar
View our website Expert Panel Discussions

Offer unbranded content for the INS Image Bank or YouTube channel
See related global initiatives
View or join our Public Directory of Members
Use our INS Google group for peer consultation, INSForum
Follow INS updates on LinkedIn or Twitter
Like International Neuromodulation Society on Facebook