International Neuromodulation Society Online Moderated Discussion

As a special benefit to members, the INS offers secure areas for members-only discussions and resources. Watch this space for upcoming announcements.
---
| | |
| --- | --- |
| Join Us! | |
| | THE July 2013 Expert Panel is scheduled for Sunday, July 7 through Sunday July 21, 2013, on Complex Regional Pain Syndrome with Frank Huygen, MD, PhD, FIPP, anesthesiologist and pain specialist at the Department of Pain Treatment, Erasmus University Medical Centre, Rotterdam, The Netherlands and Marc Russo, MBBS DA FANZCA FFPMANZCA, INS secretary and director of the Hunter Pain Clinic in New South Wales, Australia. |
---
How to join the discussion - all members are welcome!

Members may use the following instructions to navigate to the discussion board –
1) Choose "login" from the grey navigation buttons on the upper left to reach http://www.neuromodulation.com/login

2) Enter your Username and Password (you may want to click "remember me"), and click the login button
3) If not automatically directed there, click the "Members-Only Section" button on the left-hand navigation pane
4) After the members' welcome page opens, the entrance to the discussion board will be the fourth item down, shown with the green line at the bottom of the screen shot below: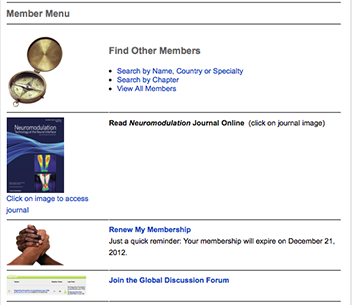 5) When the forum page opens, choose the Expert Panel, the second item in the green discussion area shown below, and enter your questions and perspectives, which will be moderated daily during the active discussion period (and then will remain open for later viewing or comments)

6) Check back frequently to view responses and comments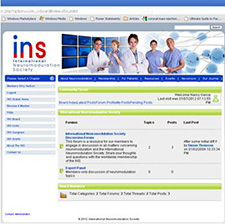 Note: Members are also welcome to carry out discussions in the general discussion section at the top of the discussion board (as well as to notify the Executive Office at INS@neuromodulation.com with suggestions for future discussions, or observations that might improve the experience).
---
More about past panels:
The April 2013 panelists:
Prof. Tipu Aziz, FMedSci, Alex Green, MD
"Deep Brain Stimulation for Neuropathic Pain" was presented by Prof. Tipu Aziz, FMedSci and Alex Green, MD of Oxford University. Together, they have treated some 5% of all patients who have had this procedure, and have published a retrospective study of their results in 59 patients over the course of up to 12 years.

The March 2013 panelist:
Leonardo Kapural, MD, PhD

Voted by his peers as a "Best Doctor in America," Leonardo Kapural, MD, PhD is a professor of anesthesiology at the Wake Forest University School of Medicine and clinical director of the Wake Forest University Health Sciences Center Chronic Pain Center, Carolinas Pain Institute and Center for Clinical Research. Dr. Kapural moderated a discussion on "Neuromodulation for Visceral Pain." He has published more than 150 journal articles and abstracts and 20 book chapters regarding his interests, which center on discogenic low back pain, visceral abdominal pain, and spinal cord/peripheral nerve stimulation.

The Winter 2013 panelist:
Krishna Kumar, MD

Krishna Kumar, MD, is a clinical professor of neurosurgery at the University of Saskatchewan, School of Medicine, moderated a session on the topic of "Spinal Cord Stimulation Candidacy."

The founding president of the Canadian Society of Neuromodulation and former director of the North American Neuromodulation Society (INS chapters), Dr. Kumar has presented and published more than 150 papers nationally and internationally, including a seminal paper, "Spinal cord stimulation versus conventional medical management for neuropathic pain: a multicentre randomised controlled trial in patients with failed back surgery syndrome," published in Pain in 2007 (with co-authors Rod Taylor, PhD, and Line Jacques, MD).

The November 2012 panelist:
Elliot Krames, MD
Dr. Krames, founder and emeritus editor-in-chief of the journal Neuromodulation: Technology at the Neural Interface, and past president of the International Neuromodulation Society, moderated an online discussion on "The Choice of Intrathecal Drugs for Pain."
online biography for Dr. Krames:
Co-author,
Neuromodulation vol. 1-2

The October 2012 panelist:
Timothy Deer, MD
Dr. Deer, International Neuromodulation Society president-elect and lead author of the newly released Polyanalgesic Consensus Conference findings, joined Director-at-Large Eric Buchser, MD to moderate an online discussion on "Evolving Recommendations and Future Considerations Regarding Intrathecal Drug Delivery to Manage Pain".
online biography for Dr. Deer:
President-Elect
International Neuromodulation Society
The summer 2012 panelist:
Dr. Barolat led a panel from Aug. 29 - Sept. 12, 2012, drawing more than 600 views during the two-week session. His two topics were "Peripheral Nerve Field Stimulation" and "Avoiding Lead Migration". A pioneer of spinal cord stimulation for spasticity and pain management, he operates one of the largest neuromodulation practices in the United States, with patients referred from all over the country.

He is certified by both the American and the Italian Board of Neurosurgery. He served from 1994 - 2000 as president and from 2004 - 2007, and again in 2008 - 2011 as director-at-large of the International Neuromodulation Society, of which he is a founding member.
online biography:
---
About the panel organizer:
The first Expert Panel hosted in 2012 was moderated by Director-at-Large Dr. Konstantin Slavin, professor in the Neurosurgery Department of the University of Illinois at Chicago, about peripheral nerve stimulation (PNS) for pain and other aspects of neuromodulation. Since, he has taken a lead role in organizing and overseeing periodic panels. More on his background:
Konstantin V. Slavin, MD
online biography:
Director-at-Large
International Neuromodulation Society
faculty page:
Professor
Department of Neurosurgery
University of Illinois at Chicago

additional leadership positions: