Neuromodulation News: January 2019

President's Message l Preview the INS 14th World Congress Scientific Program l Start Making Plans for Sydney l INS 14th World Congress Travel Grants l Seeking INS 14th World Congress Twitter Ambassadors l Upcoming Expert Panel l 2018 Chapter Reports - Includes NEW Russian Chapter! l Italian Chapter Accredited to Contribute to National Guidelines l Ways to Get Involved
A Message from the President
By now, I am quite certain that every neuromodulation practitioner has seen or heard about the recent spate of articles by the Associated Press. After a yearlong investigation, to my mind, these reporters found that:
Some patients were significantly helped by spinal cord stimulation
Some patients were not helped by spinal cord stimulation
Some patients reported worsening or injury following spinal cord stimulation
Some patients reported that their implanting physician did not fully disclose the risks, benefits and alternatives of spinal cord stimulation
Some physicians received consulting fees from the neuromodulation industry and were not fully disclosing of these arrangements
The process behind FDA approval of neuromodulation technology is, to their mind, inadequate
As a group of health care providers dedicated to the well being of our patients, it is important to carefully consider these issues and determine how this investigation may help us to become better physicians. It is also important to put these issues in context and stand up when issues are not fairly presented.
First, while it is true that some patients are helped by spinal cord stimulation and some patients were not, it is critical to note that these numbers are not nearly equal. In carefully performed randomized controlled trials, spinal neurostimulation techniques provide 50% or more pain relief in over 80% of patients, with 70% of patients achieving 80% pain relief or more. Even using the rigid criteria of greater than 50% pain relief for success, over four times as many patients treated with spinal cord stimulation are successes rather than failures. And while any surgical procedure has its risks, the risks of spinal cord stimulation are quite low. The risk of any neurologic injury following surgical paddle lead implantation is 0.56%; thus 99.44% of patients avoid any type of neurologic injury including such issues as transient numbness or tingling.
The Associated Press articles, published worldwide, suggest that some patients reported that their physicians did not fully disclose the risk, benefits and alternatives of spinal cord stimulation prior to the procedure. In reality, this may or not be the case. Under the stress of a physician visit and signing informed consent, patients often forget the details of the conversation. That being said, the INS strongly supports the practice of full disclosure of the risks, benefits and alternatives to any neuromodulation procedure. Practitioners should be especially sensitive to this going forward.
The Associated Press further disclosed that some neuromodulation physicians consulted with industry, benefited financially from these consultations and may not have fully disclosed this to their patients. Transparency usually helps develop trust between the physicians and their patients and so such disclosure is advised. Part of my usual and customary discussion with patients includes that over my career I have consulted with most if not all neuromodulation businesses that make spinal cord stimulation products. I tell patients that I will implant whatever device I feel will best suit their needs and, that if they prefer, I will implant the device of any company that they choose. That being said, information concerning physician/industry collaboration and reimbursement is available to anyone who wants it, at least in the United States. Through the Sunshine Act, all payments made to physicians by industry are reported annually and appear on the United States-sponsored website.
Finally, I take issue with the criticism of the Food and Drug Administration. The FDA serves a critical role in ensuring the safety and efficacy of medical devices in the United States and they have been dedicated to monitoring and improving their processes in real time. Their record in the field of neurostimulation and neuromodulation is virtually unassailable.
So how are we to react to such a flurry of critical articles? I would suggest by simply continuing to practice good medicine. Inform patients of our potential real or perceived conflicts of interest, fully inform them of the risks, benefits and alternatives of the procedures we perform, and continue to have our patients' best interest at heart.
Robert M. Levy, MD, PhD
INS President

---
Preview the INS 14th World Congress Scientific Program
The INS 14th World Congress preliminary program is now available for viewing. Please feel free to share a link: bit.ly/INS2019pgm with your colleagues and friends.
The 3.5-day scientific program takes place in Sydney, May 25 – 30, 2019. It will feature plenary sessions, invited talks, and three simultaneous streams of scientific presentations focusing on neuromodulation for pain, brain, and organ disorders. With both systematic reviews and cutting-edge content, the program is appropriate for both new and experienced attendees alike.
In addition, space has been reserved on the program for more than 100 oral abstract presentations, including late-breaking results from ongoing studies. We warmly thank everyone who submitted scientific abstracts, which are presently undergoing peer review. Besides podium presentations, all of the impressive scientific abstracts will be presented in daily poster sessions.
Overall, as past delegates have discovered, the Congress is an outstanding opportunity to mingle with more than 1,400 peers from around the world. The multidisciplinary focus draws a unique mix of attendees who specialize in basic science, biomedical engineering, clinical application, and entrepreneurship. The quality of interactions with international peers has been a hallmark of the biennial INS Congress since its start in 1992.
At the 2019 Congress, the final day's invited talks will look to the future, addressing treatment of the autonomic nervous system and a future standard of care; big data and cybersecurity; and cognitive applications of transcranial stimulation.
According to Scientific Program Chair Dr. Marc Russo, the theme of the 14th World Congress, Neuromodulation: Leading a Global Medical Revolution, "has been chosen to showcase the dynamic and rapidly changing aspect of our field, where fundamental basic science enquiry is uncovering ways to better interface with the nervous system and this is rapidly translating to improved therapies and improved outcomes for patients and novel indications for therapy."
We hope to see you there!
Register by Jan. 22, 2019, for an early registration discount.

Preconferences
In addition to the main Congress, two pre-conferences, a public event, and a workshop will all precede the 3.5-day scientific program.
The preconferences begin Saturday, May 25, 2019, with a daylong session on Noninvasive Brain Stimulation, co-chaired by Dr. Eric Wassermann of the U.S. National Institute of Neurological Disorders and Stroke, and Prof. Paul Fitzgerald of Monash University. Due to the topic's growing popularity, this preconference is returning for the second time. Attendees will not only hear from featured speakers, but also learn from presenters during a poster session.
The following day, Sunday, May 26, has three preconference events:
We encourage companies to apply to present on a start-up panel during the fifth Innovations Day preconference on Sunday, May 26. Innovations Day, with a theme of Disruptive Innovation: The Driving Force of Progress in Neuromodulation, brings together some 200 global leaders in the innovation and investment communities to hear from emerging companies, entrepreneurs, and experts about their future vision of the intriguing promise and anticipated hurdles for a field undergoing rapid evolution.
At Macquarie University on Sunday, May 26, the INS and the Neuromodulation Society of Australia and New Zealand (NSANZ) offer a Hands-on Cadaver Workshop, with didactic and hands-on sessions for instruction in the latest neuromodulation therapies. (On May 25th, NSANZ is organizing a preceding workshop, with separate registration, on radiofrequency procedures.)
Also on Sunday May 26, INS and NSANZ are organizing a free Public Education Event to raise awareness of neuromodulation, featuring educational presentations for a lay audience and patient panels. All are welcome to attend.
Highlights of Our Esteemed Faculty
Reflecting the scientific program's unsurpassed caliber and multidisciplinary content, the esteemed faculty of the Congress includes leaders from the INS and its editorial board, as well as other internationally recognized experts. A small sampling of confirmed speakers includes: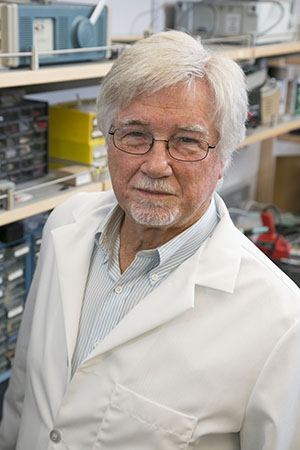 Reggie Edgerton, PhD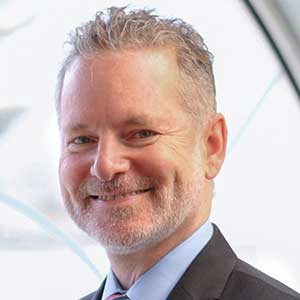 Nathaniel Katz, MD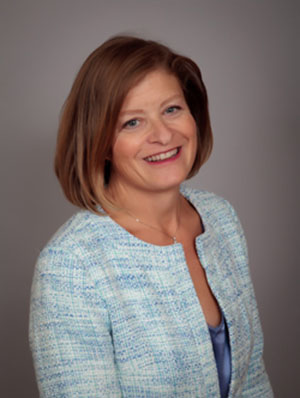 Lisa Stearns, MD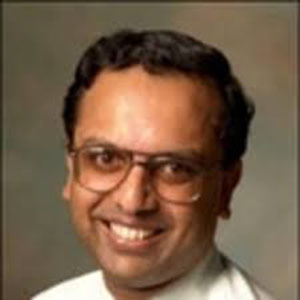 Vijay Varadharajan, PhD

---
Start Making Your INS 14th World Congress Plans and Hotel Reservation

The INS 14th World Congress, May 25 - 30, 2019, takes place in a world-class city in a region with rich scientific and cultural resources.

Please join us and start making your plans now to attend, with the following tips from 2019 Congress website: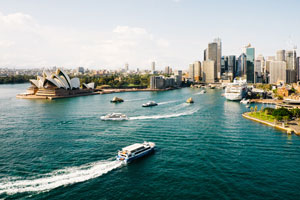 Caption: Darling Harbor, Sydney - the meeting venue is around the point to the right, at the end of Sydney's Cockle Bay cove
About the Venue
With its iconic opera house, Sydney surrounds the world's largest natural harbor. The International Convention Centre (ICC) Sydney, where the 2019 Congress is being held, is adjacent to the Darling Harbour -- a vibrant area with scenic walkways linking hotels, the convention center, restaurants, shops, theaters, a public square, museum, and park. The ICC Sydney, overlooking the water in Sydney's theater and exhibition district, is a 2016 complex that integrates meeting, exhibition and entertainment space.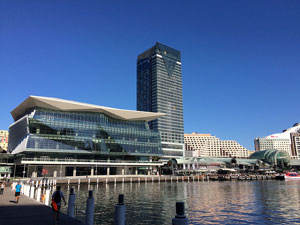 Caption: The International Convention Centre Sydney (ICC)
Just 5 miles from the Sydney International Airport, the ICC is served by a pedestrian boulevard, light rail, train, ferry, and arterial roadways. Alongside this modern hub, the picturesque 1902 Pyrmont Bridge is closed to cars and offers a scenic place to stroll and enjoy a central vantage point. Just to the south is the iconic sandy stretch of Bondi Beach, where an outdoor, Olympic-sized pool beside the ocean surf is open to the public.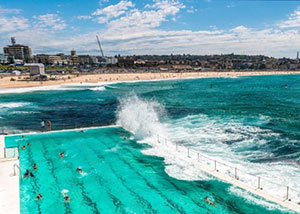 Caption: Bondi Beach on the edge of Sydney

Based on its attractions, central location, and skyline views, Darling Harbour was rated by travelers as 6th of 495 things to do in Sydney. The 2019 Congress takes place during the Vivid Sydney festival, when the Sydney Opera House and other landmarks become artistic light-scapes after dark, topped by periodic fireworks displays.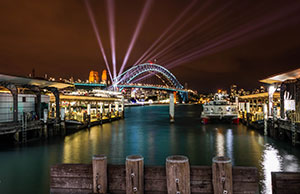 Caption: Nighttime views over Sydney

While multicultural Australia is a relatively young country, only federated in 1901, its First Peoples, Aboriginal groups and Torres Strait Islanders, represent the world's oldest continuously existing culture, going back 60,000 years. Official meetings often begin with a welcome or acknowledgement signifying respect for the traditional custodians of the land, and their heritage and ongoing presence. ICC Sydney stands on Tumbalong, the land of the Gadigal clan of the Eora Nation.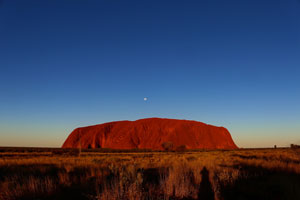 Caption: Uluru is revered as a sacred Aboriginal place
If you've ever dreamt of visiting Australia, now is the perfect time. Explore all Australia has to offer at www.australia.com.

---
INS 14th World Congress Travel Grants
As part of its educational mission, the INS will provide 40 travel grants to help persons with limited resources attend the INS 14thWorld Congress in Sydney, Australia on 25 - 30 May 2019.
INS members are invited to apply by 15 February 2019 for consideration. The grants provide reimbursement for travel expenses of up to US$1,000. Recipients will be selected based on abstract submission and acceptance and best need; consideration will be given to distance from home country, state of advancement of the national chapter where the applicant resides, and career stage.
Successful applicants will be notified by 7 March 2019.

---
INS 14th World Congress Twitter Ambassador Program

The INS is seeking volunteers to serve as Twitter Ambassadors prior to the INS 14th World Congress.
Selected participants will be sent monthly emails that contain content to share, and can receive incentives based on the number of registrants they refer:
5-10 referrals 25% registration refund
11-15 referrals 50% registration refund

16-20 referrals 75% registration refund

20+ referrals 100% registration refund
For more information, please share your email in a direct message to the INS on Twitter at @IntlNeuromod.

---
Upcoming Expert Panel: Neurostimulation for Pelvic Pain
Please join us Jan. 22 through Feb. 5, 2019 for a discussion between members in gynecology or pain management about "Neurostimulation for Pelvic Pain". The two-week online discussion will be co-moderated by Richard P. Marvel, MD, FACOG, FACS; INS Director-at-Large Corey W. Hunter, MD, FIPP, and Prof. Thierry Vancaillie, MD (Belgium), RANZCOG, FFPMANZCA.
Dr. Marvel is a gynecologist and has specialized in all facets of the evaluation and management of women with chronic pelvic pain.
Dr. Hunter is an interventional pain management physician practicing in New York City, holding board certifications in Physical Medicine & Rehabilitation and Pain Medicine.
Dr. Vancaillie is a gynecologist and pain medicine specialist. He is clinical professor in Women's Health at the University of New South Wales, as well as founder and director of the Women's Health and Research Institute of Australia in Sydney.
You may read more about their expertise on the INS Expert Panel page.

---
Chapter News from 2018
Activity summaries from:
Argentina l Australia and New Zealand l Canada l Colombia l Italy l North America l Russia l Turkey l United Kingdom and Ireland 
Argentina - Sociedad Argentina de Neuromodulación (SANE)
Activities involving SANE in 2018:
Dr. Beatriz Mantese - Head of the Neurosurgery Service of Garrahan Hospital and Scientific Secretary of the Argentinean Neuromodulation Society (SANE) – is currently coordinating the M3D Course at the Garrahan Pediatric Hospital (City of Buenos Aires, Argentina). This course aims to introduce educators and professionals of the healthcare field, in the several possibilities that 3D printing offers and its applicability in the neuromodulation field. This technology allows for the design and prototyping of implantable medical devices, training simulators and also the printing of neuron and vascular morphologies for educational purposes.
It provides an introductory overview in image processing for pathology models materialization, and also in the interaction between software, hardware, materials and services inherent to 3D printing technologies. This is achieved through case study hands-on analyses which include the simulation of surgical procedures, surgical aids and pre-surgical strategy models produced by 3D printing. 
The duration of this course is 6 classes with a total of 12 contact hours, and it is an introductory proposal to the Post Graduate training course offered by the educational company 3DU.digital (http://3du.digital), with total duration of one semester.
In addition, the Argentinean Neuromodulation Society (SANE) auspice the following events during 2018:
-   April 2018. Session of Pain management in different clinical conditions. Buenos Aires City. Soubeiran Chobet. Auspices: AAMYCP – SANE – Dolor Foundation – FEMEBA.
-   May 2018. Anesthesia and Analgesia Workshop. Buenos Aires City. AAAVRA - SiaVet - SANE.
-  June 2018. La Plata Pain Workshop. La Plata City. AAED - SANE - Advanced Pharmacy Course in Diagnosis and Pain Treatment.
-   August and September 2018. Pain Workshops – Northeast area. Tucuman Province. AAED. Auspices: SANE – Padilla Hospital – Government of Tucuman.
 
Australia and New Zealand
The year 2018 has been another hugely successful year for the Neuromodulation Society of Australia and New Zealand (NSANZ).
The NSANZ 13th Annual Scientific Meeting (ASM) held 7-8 April 2018 at the International Convention Centre, Sydney and was the largest and most successful meeting to date with 270 delegates, and eight international plenary speakers, over two full days. Plenaries and breakout sessions included nursing and allied health, training fellow's masterclass, an organ stream, and a brain and spine surgery stream.
The Cadaver Course 2018 was also extremely successful with 24 delegates including six international delegates having travelled from countries such as from Hong Kong and Kuwait indicating that the course is of higher caliber to travel to attend.
NSANZ is excited to be hosting the 14th International Neuromodulation Society (INS) Congress in Sydney from 25th - 30th May 2019 at the International Convention Centre and to be showcasing the huge growth and major developments from recent years to our international colleagues and the world of neuromodulation.
In conjunction with the congress, NSANZ is also pleased to offer a pre-congress hands-on Cadaver Workshop on Radiofrequency Procedures to be held on Saturday 25 May 2019 at Macquarie University, Faculty of Medicine and Health Sciences. The clinical program will address hands-on aspects of radiofrequency (RF) interventional pain procedures. It will support those starting out but also cater to the more experienced interventional physician.
NSANZ membership has grown from 39 members in 2016 to 99 members in 2018, which is a 153% growth over two years. The Australasian Neuromodulation Nurses Special Interest Group (ANNSIG) was also introduced.
The NSANZ Board, along with the assistance of several medical technology companies and public relations companies, developed a campaign to lobby against the Australian Government's proposed changes to Private Health Insurance cover whereby restricting access for in-patient procedures for chronic pain (and would only be available to patients with top health cover from April 1st 2019). The campaign has been very successful to date with much media coverage.
Thanks to my fellow board members Dr Marc Russo, Dr Nick Christelis, Dr Murray Taverner, Dr Frank Thomas, Dr Paul Verrills, Dr James Yu and Dr Philip Finch. We are very much looking forward to the exciting times ahead in neuromodulation with the NSANZ and INS.
Richard Sullivan
President
December 2018
 
Canadian Neuromodulation Society
On behalf of the Board of the Canadian Neuromodulation Society (CNS), I would like to update the INS on our activities this year.
The 10th annual meeting of the Canadian Neuromodulation Society was held February 5-7th 2018 in Whistler, British Columbia. One hundred and twelve delegates attended, with representation from all provinces in Canada. A large number of international delegates from Australia, Spain, United Kingdom, Netherlands, United States, and Brazil were also in attendance. The presentations covered a wide range of neuromodulation topics including movement disorders, chronic pain, urology and psychiatry. The attendees enjoyed academic, social and athletic activities including skiing, wine tasting, and dinner at the beautiful Squamish Lil'Wat Cultural Center, where the art, history and culture of the First Nations people were highlighted.
Our next national meeting will be held June 30-July 2, 2019 in Iqaluit which is in the far north of the Canada in the Arctic. Details are now available on our website. I have chosen to host the meeting in the Arctic to highlight that Canadians in that region have reduced access to neuromodulation technologies. In our recent publication on the access to DBS across the entire country of Canada (Can J Neurol Sci (2018) 45:553-8), it was clear that no patient in the three northern Territories received DBS during the two-year study. We are going to bring our physicians to the remote north to show the politicians that we care about these patients and want to help them.
The Society is actively lobbying various provincial governments (e.g. Quebec and British Columbia) to increase the funding and access to neuromodulation therapies.
We have completely redone our website at neuromodulation.ca in order to improve our web security and provide our members with up to date information about the Society and our upcoming meetings.
Our Treasurer, Dr. William McDonald, has worked with our accounting firm to ensure our bylaws and constitution is in keeping with the new Canadian laws on non-profit organizations. The main changes include our status as 'non-soliciting', our quorum is 10%, and our meetings can be held electronically (which we have taken advantage of on two occasions). Our budget is in a healthy surplus. Some of the profits from our Whistler meeting will be used to offset the cost of travel for qualified applicants to the Iqaluit meeting.
I hope you will consider joining us in the Canadian Arctic for our annual meeting on neuromodulation.
With respect,
Dr. Christopher R. Honey, MD, DPhil, FRCSC, FACS
Professor of Neurosurgery, UBC
President, Canadian Neuromodulation Society
 
Colombia - Asociación Colombiana de Intervencionismo Analgésico y Neuromodulación (ACIAN)
ACIAN - PROGRAMMED ACTIVITIES IN 2018-2019
EVENT: UPDATING OF MEDICAL PROCEDURES UNIQUE CODES (CUP) FOR THE HEALTH DEPARTMENT AND SOCIAL PROTECTION
Purpose: update the list of interventionism and neuromodulation procedures.
EVENT: INS INTERIM 2018
Participation: President of ACIAN.
Date: August 2018.
Location: Rio de Janeiro – Brazil.
Purpose: consolidate INS chapters in Latin America.
EVENT: COLOMBIA'S OPIOID CRISIS: HIGHLIGHTING THE IMPORTANCE OF CHRONIC PAIN INTERVENTIONISM
Date: May 22nd-23rd, 2018.
Participation: Dr. Timothy Deer, Health Minister of Colombia.
Purpose: raise strengths and threats of neuromodulation practice and redesign marketing strategies to enhance the therapy's availability.
EVENT: THEORETICAL-PRACTICAL COURSE OF INTERVENTIONISM TO CONTROL CHRONIC PAIN
Date: June 13th and 14th, 2019.
Participation: Dr. Fabián Piedimonte
Purpose: offer training opportunities in the neuromodulation and interventionism fields.
EVENT: LOBBY WITH THE COLOMBIAN DEPARTMENT OF HEALTH

Purpose: legislate interventionism towards safer and more specialized practice.
EVENT: FIRST NEUROMODULATION INS LATIN AMERICAN MEETING
Date: October 19th and 20th, 2019.
Purpose: consolidate all INS chapters in Latin America.
In closing, please feel free to contact us via telephone or email at the following: +57-317-3821-078, [email protected] or [email protected].
We would be pleased to address any additional concerns you might have and we invite you to make part of our team of specialists in the country.
Sincerely,
Dra Luz Elena Cáceres
President of ACIAN – INS Colombian Chapter 
 
Italy - Summary of chapter activities in 2018
CONGRESS
- 1° MEETING SAQURE, Rome, May 24-26, 2018
- 1st joint Congress of the INS European Chapters Nimega, September 19-22,2018
- International Workshop: Update on Peripheral Nerve Stimulation. Bologna, October 27th, 2018
- FIRST ITALIAN CADAVER LAB COURSE on PERIPHERAL NERVE STIMULATION organized By the Italian Chapter of INS, Padova, December 11th, 2018
 ACTIVITIES
April, 2018 beginning of the National Survey about Neuromodulation in Italy
November, 2018 Appointment by the Italian Ministry of Health of scientific Society referring to the drafting of guidelines
According to the requests of the national public health system nomination of a Regional Referent of INS
 PARTNERSHIP WITH SCIENTIFIC SOCIETIES
Officina Algologica Triveneta
Tuscany Society of Pain Therapy and Palliative Care Vincere il Dolore Onlus
NE.MO -NEuro.Modulation Association of implanted patients
Italian Neurosurgical Society - Section of Neurosurgery and Stereotactic Functional and Radiosurgery
 
North America - North American Neuromodulation Society (NANS)
As I reflect on 2018 NANS activities, I can succinctly say it was an "organizational success". As NANS president, I can attest that our success is truly a team effort. Our team of dedicated NANS professional staff, board members, committee members and physician members have devoted countless hours of personal time and are responsible for NANS' accomplishments. I can't help but reflect also on the commitment that we share with promoting and advancing the highest quality patient care. The year 2019 is our 25th anniversary year and I have every confidence that we will continue to celebrate our success and growth into the future.  
NANS successes in 2018 have included:
From January 11-14, 2018, over 2900 total attendees in all, joined us for our 21st Annual Meeting in Las Vegas. Julie Pilitsis, MD, PhD was the principal architect behind the scientific program for the 2018 Annual Meeting and her vision and efforts allowed it to continue on this impressive growth curve that we have been experiencing these past several years. With the dedicated efforts of David Provenzano, MD, the content offered at our annual meeting was current, engaging and innovative. As the annual meeting co-chairs, Steven Falowski, MD and Jason Pope, MD, ensured that the overall atmosphere, meeting venue and related meeting events exceeded the expectations of our attendees and supporters.
During the annual meeting, our hands on cadaver course trained 122 pain fellows and 32 neurosurgery residents. 29 neurology residents participated in the hands on course for neurologists and 30 engineers participated in a hands on course designed for them. We also offered a hands on certificate course for peripheral nerve stimulation with over 40 attendees. I would like to acknowledge and commend the efforts of Michael Fishman, MD, Michael Hanes, MD; Bryan Hoelzer, MD and Chen Wu.
This Spring, NANS was awarded full admittance to the AMA House of Delegates. Shortly thereafter, NANS was also appointed seats on the AMA CPT and RUC Panels. Our RUC representatives are Demean Freas, MD and Peter Pahapill, MD. Our CPT delegates are Corey Hunter, MD and Dawood Sayed, MD.  
Under the guidance of David Kloth, MD, the NANS Advocacy and Policy Committee remains active and effective. NANS lead a public relations initiative in the state of California and we were able to introduce the next phase of the program promoting neuromodulation as an alternative to opioids. Ongoing plans include a nation-wide rollout of this messaging. 
The NANS Education Committee provided a successful proposal of an initial neuromodulation core curriculum that NANS hopes to begin expanding and offering to practitioners shortly.
NANS has a strong collaborative relationship with the Congress of Neurological Surgeons and are planning a forthcoming maintenance of certification exam/question bank for neuromodulation. 
From August 23-26, 2018, we successfully executed our first ever joint meeting with the New York City Neuromodulation Conference and NANS Summer Series. Bringing together a diverse group of thought leaders from medicine, academia, and industry, over 700 attendees came to New York for the conference. Over the course of the 3-day meeting, sessions covering new advances in neuromodulation, including non-invasive therapies were presented alongside sessions focusing on artificial intelligence, brain computer interfaces and engineering case studies. 25 Pain Fellows attended a hands on cadaver course and over 20 engineers participated in a hands on laboratory course geared for them.
Establishment of a partnership with the Consumer Electronics Show (CES), to showcase neuromodulation as a growing therapeutic field among other rapidly-growing medical technologies.
In conjunction with our ongoing public relations Opioid Alternative Campaign, NANS is currently developing a patient-focused website, AskAboutPain.com, to provide information to patients about neuromodulation therapies. We hope to introduce the new website this coming December. Please be on the lookout for this valuable patient resource.
2019 is our 25th Anniversary year and I have every confidence that we will continue to celebrate our success and growth into the future.  
Sincerely,
B. Todd Sitzmann, MD
President, North American Neuromodulation Society
 
Russia
Dear colleagues!
We welcome a new regional chapter – our colleagues from Russia.
President of the Russian chapter, Emil Isagulyan and vice-president on development of functional and stereotactic neurosurgery, Alexey Tomsky, work in the largest neurosurgical center in Europe – Burdenko Neurosurgical Institute.
History
March 13, 2015 - is the day of foundation Association of Interventional Pain Management (AIPM) (President Alexey Voloshin)
September 22, 2018 is the day of foundation National Neuromodulation Society in Russia (NNSR)
NNSR Board Members and INS President in September 2018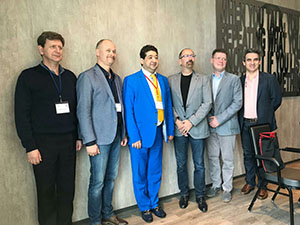 Caption: In this photo from September 2018 in Nijmegen, the Netherlands, are, from left to right: Dr. Alexander Ushakov, Dr. Ivan Morozov, Dr. Emil Isagulyan, Dr. Robert Levy (INS president), Dr. Alexey Voloshin, and Dr. Konstantin Slavin (INS secretary and chief consultant to the board)
We are a special branch of Association of Interventional Pain Management (AIPM)
President: Emil Isagulyan
Secretary: Elizaveta Makashova
Treasurer: Dmitry Kuchno
Chief Consultant of the board: Konstantin Slavin
Vice-president on development of functional and stereotactic neurosurgery: Aleksey Tomsky
Vice-president on Public Relations: Djamil Rzaev
Vice-president in the direction of Science: Pavel Genov
Vice-president in the direction of ITB-therapy in Russia: Ivan Morozov
Membership of the chapter is invited to participate in National congress of functional and stereotactic neurosurgery, which will be held in Moscow, from 23 to 25 March.
Directions for scientific cooperation:
Neuromodulation: mechanism of action
Occipital nerve stimulation in migraine treatment
Deep brain stimulation in Tourette syndrome treatment
Neuromodulation in pain treatment
Neuromodulation in movement disorders treatment
For information of the NNSR
Emil Isagulyan
Russia, Moscow
Tel. +7 (985) 766 35 70
Email: [email protected] 

Turkey
Activities of Turkish Chapter of INS - 2018
1. Neuromodulation Techniques and Cadaver Workshop 'clinical pearls'
May 4 - 6, 2018 Istanbul, Turkey
50 trainees (27 pain specialists and 19 neurosurgeons, 2 neurologists, 1 physiatrist, 1 urologist) attended the meeting and the workshop
Main lecture and workshop topics:
- Failed back surgery syndrome and neuromodulation
- Parkinson's disease and neuromodulation
- Epilepsy and neuromodulation
- Spasticity and neuromodulation
- Sacral nerve stimulation

2. Neuromodulation in Pain Treatment & Cadaver Workshop
November 15 - 16, 2018 Antalya, Turkey, planned in conjunction with the International Pain Congress
Main lecture topics: cervical, thoracic, and lumbosacral anatomy of the spine, mechanisms and application of radiofrequency, mechanisms of spinal cord stimulation, indications and complications of spinal cord stimulation
Cadaver Workshop: techniques of implantation of spinal cord stimulation in the cervical region, in the thoracic region, and retrograde approach
40 trainees (25 pain specialists and 15 neurosurgeons) attended the workshop
3. INS Turkısh Chapter Symposium November 17, 2018 Antalya, Turkey in conjunction with the International Pain Congress
Topics: effect of different parameters in radio frequency
Effect of different parameters in spinal cord stimulation
Red flags in spinal cord stimulation
Neuromodulation in intractable pain syndromes
4. In 2019:
In April 2019:
- We are planning Neuromodulation Techniques and Cadaver Workshop 'clinical pearls II' in Istanbul
- In October 2019: We are planning '1st Young Pain Specialists Congress' with the support of the Turkish Society of Algology where young specialists are going to plan the cadaver workshop on neuromodulation and the lecture topics for the meeting. The meeting will be supported by the Turkish Society of Algology and the Turkish Chapter of INS.
 
United Kingdom and Ireland - the Neuromodulation Society of the United Kingdom and Ireland (NSUKI)
NSUKI is looking forward for the INS meeting in Sydney. We have offered bursaries up to £3000 pounds to our members. We thank the industry support for the educational grant, which has helped this educational initiative. We offered 23 bursaries to the first European chapters' meeting in the Netherlands.
NSUKI Annual Scientific Meeting for 2019 is planned for 15th and 16th November 2019 in Leeds with a possible cadaver workshop and surgical skills on 14th November 2019. We are also looking at offering 20 - 25 bursaries for this meeting.
National Neuromodulation Registry (NNR) was launched in February 2018 with data being entered from March 2018. We have a substantial number of entries and we are growing day by day. We have around 650 patients registered with more than 1200 entries. There is ever-increasing pressure from commissioners on outcome-based commissioning. Recent media attention on the device industry and CE mark also reinforces the need for data collection.
SNNAP
Thanks for the effort of our specialist neuromodulation Nurses and Associated Professionals (SNNAP), who have joined the society. This helps in overall patient care and improvement in services. They have also initiated the Neuromodulation module in collaboration with Leeds Beckett University. This is a masters' module aimed at all professionals involved in neuromodulation.
Research
NSUKI supports research by offering two small research grants every year. These are for projects that could be undertaken with minimal financial support and some support from the network. We will endeavour to carry on with this initiative.
Recent recruitment for Trial-No-Trial study of more than 105 patients in less than six months between three NSUKI member institutes provides evidence of what we could achieve. I hope to see more of these initiatives and joint working in the future to have studies funded by public bodies in expanding neuromodulation.
Zero Cost
NHS is moving towards zero cost by procuring high-cost devices via NHS supply chain. NSUKI has been in a position to give some advice on the process. This is a change in practice from institutes initially buying the device and being reimbursed later, to supply at zero cost. This an area to watch out for in the coming years.
Dr G Baranidharan
NSUKI President

---
INS Italian Chapter is Accredited to Contribute to National Guidelines
The Italian Chapter of INS has been included in the list of accredited Scientific Societies for the drafting of guidelines desired by the Italian Ministry of Health; at present it is the only accredited Scientific Society in Italy with indications for the best practices for Spinal and Peripheral Neurostimulation, derived from published recommendations of the Neuromodulation Appropriateness Consensus Conference, whose creation was initiated by the INS.
It is anticipated that other aspects of neuromodulation will be added in time.


---
If you like what you see and want to become involved in the INS…
Join us or renew your membership now!
Submit an article to Neuromodulation: Technology at the Neural Interface or get content updates
Refer a colleague to INS!
Learn about our biennial Congress; access the promotional toolkit
Customize INS patient hand-outs with your contact details 
Volunteer for an INS committee
Visit our Global Events Calendar
View our website Expert Panel Discussions

Offer unbranded content for the INS Image Bank or YouTube channel
See related global initiatives
View or join our Public Directory of Members
Use our INS Google group for peer consultation, INSForum
Follow INS updates on LinkedIn or Twitter
Like International Neuromodulation Society on Facebook